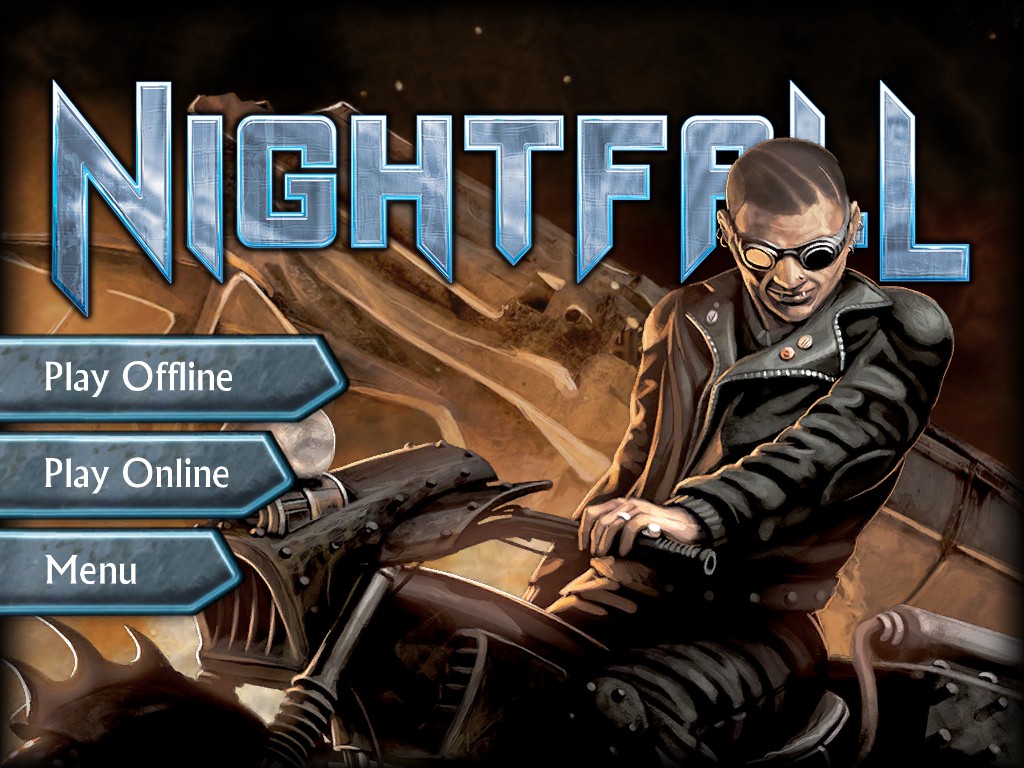 PAX East 2012: PlayDek brings AEG's Nightfall DBG to iOS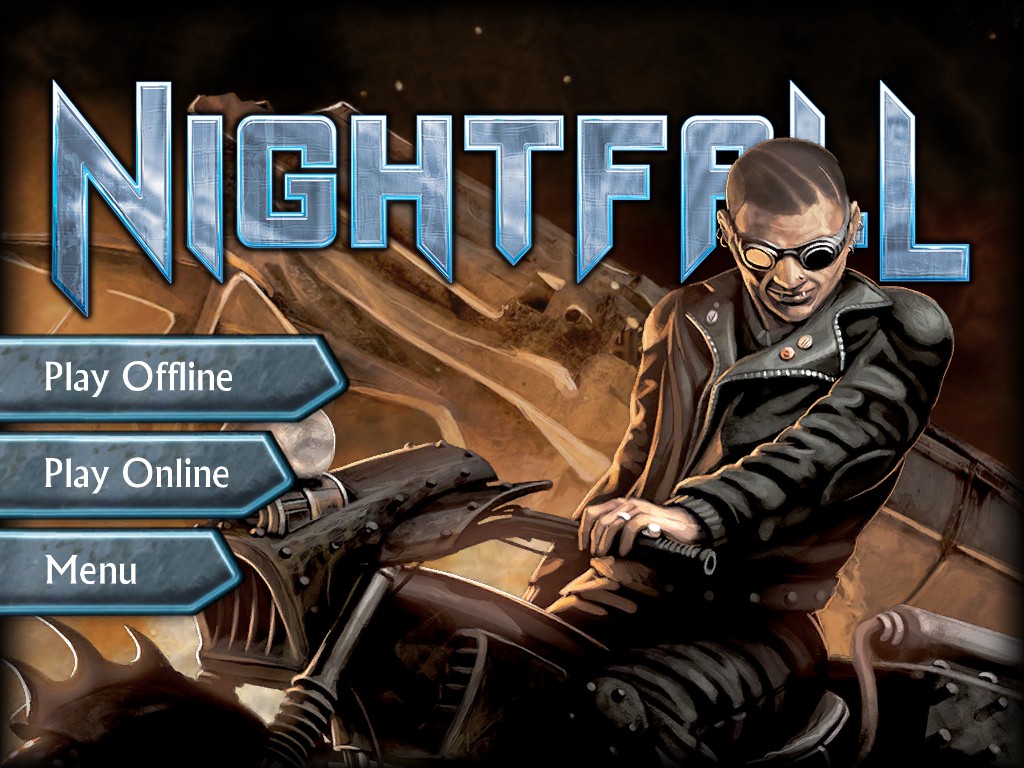 The crew here at NA are big tabletop gaming fans. From our earliest days with D&D and Vampire: The Eternal Struggle to our current gaming with the likes of Ascension, and most recently the Lock and Key card game adaptation. Problem is, it becomes more and more challenging to organize nights to have a crew over for a rousing game of Munchkin or Nightfall, as it were, due to life and other obligations associated with growing up, getting in the way.
Now, in this modern day of fanciful technology (where our phones barely make calls yet can make beautiful photographs look like they came from the 50's) PlayDek has a solution for our tabletop gaming needs in the form of App versions of some of our favorite card games. Recently, at PAX East, I got the opportunity to sit down with the recently released Nightfall adaptation on iOS.
How can this be possible? 
I'm familiar with the physical core set of Nightfall and my initial thought was this: How do you fit all of the information contained within a multiplayer card game within the limited space of an iPad screen? And then, how do you make it so that you can enjoy the more aesthetic portions of the game, like the card art and mechanics?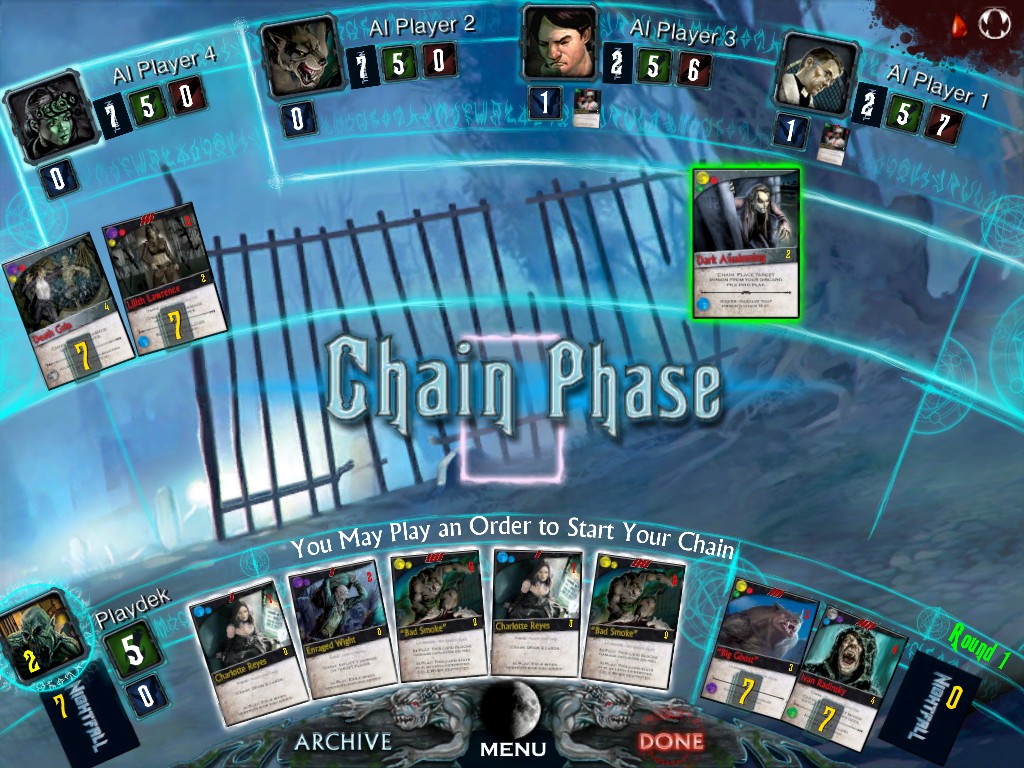 The short answer is that, amazingly, it works! I'm stoked on this for two reasons: 1.) my physical copy of Nightfall has currently been gathering dust on my shelf for a while now, and 2.) If you try to imagine, for a moment, all of the things you want /need to do in a card game and how it might translate to digital, it's quite an undertaking. It's sort of a marvel of user experience engineering.
Welcome to Nightfall
I'm not going to get too deep into the mechanics of the game, rather focus primarily on the digital implementation. In a nutshell Nightfall is a deckbuilding game that "puts players in control of minions of the night, fighting one another for control of an Earth shrouded in eternal night. Werewolves, vampires, ghouls, and those who fight them see no need to hide from the public, waging their war in the streets." What sets this DBG apart is a "chain" system in which cards are played into the game area using color coded cards, and only additional cards can be played if the chain color matches. Chains resolve LIFO which sets up some interesting strategies.
A slick app
Between chaining and combat phases, each player is involved in every turn of the game, which requires quite a bit of information to mentally process across a play space. The interface keeps the most important information always on screen, with easy controls to switch between opponent play-areas, as well as your hand / minion area / and discard pile.
The App version of Nightfall actually visualizes more information than you would probably keep track of in a normal game: how many cards a player has in discard and hand, how many cards are left in the draw piles, and how many wounds are left and have been assigned. Normally, wound counts are kept secret, but the game provides an option to count them to keep track of the action when playing across multiple online games.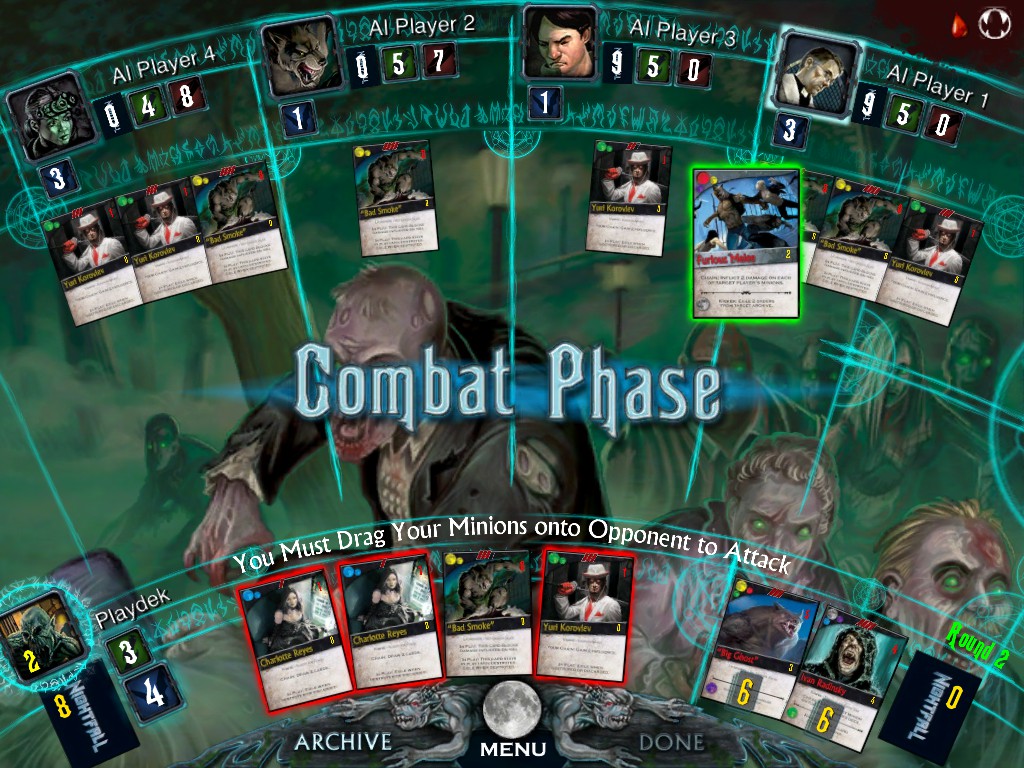 We also see some much-appreciated aspects that one might normally take for granted in the physical card game: keeping track of turns, who can chain, what cards are legal to chain, the activation of kickers, card resolution, shuffling, clean-up, etc. Despite any gaming group's best intentions, these things are often difficult to keep track of, especially when acclimating new players to the game. The interface animates and changes backgrounds as a subtle way to help players keep track of what's going on. It's this attention to detail that makes this a quality experience.
And so much more
The quality of Nightfall on iOS comes in a variety of features built into the core game experience. At any time in the action you can zoom in on any card on the table, then swipe between cards in the same pile. The app has online and offline play; online play is asynchronous, utilizes turn timers, and can include AI opponents of 3 skill levels. The app also contains a Card Gallery, Rulebook, and the framework to support "promo" cards and expansion sets.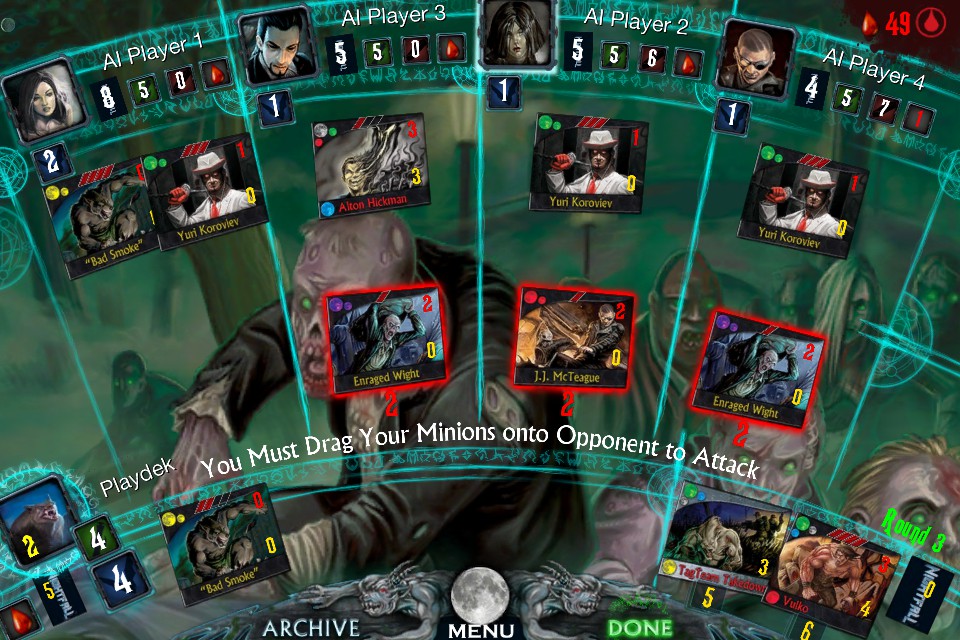 As if that weren't enough, at PAX East I demoed the game on an iPad, but I regularly play on my phone… my PHONE, a 3.5 inch screen. And it works, it all just works. Quite impressive, indeed.
Nerd Appropriate
Don't think of this App 1 to 1 replacement for the physical version. As in any digital experience you obviously can't "read" players or engage in political maneuvering. Think of the "App" and the "physical version" as companions to one another – two great ways to keep fans of the game involved in the action, where and when they want.  Nightfall on iOS is a great way to play cards with friends when you can't get a gaming crew together. It's also a great way to test out strategies against unfamiliar opponents and AI. And if you really want to talk brass tax, the physical copy might set you back $30, while this app is only $5 on iTunes (Universal App).
Also be sure to check out the PlayDek website for other card game adaptations for a variety of game publishers, with more on the way in the near future.
Happy Gaming.