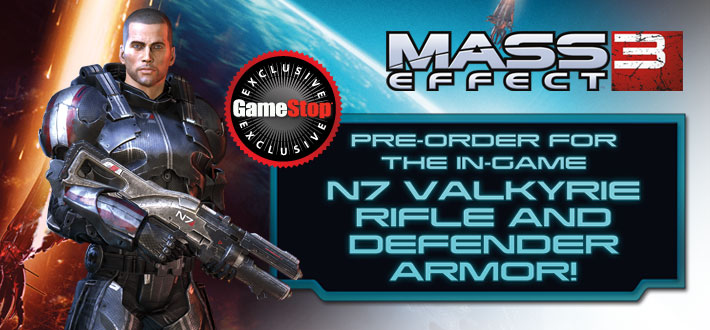 Will Mass Effect 3 Pre-Order Bonuses Force You to Shop at Game Stop?
Some new Mass Effect 3 info hit our mailboxes today, and while we probably should have reported it earlier we were more than likely crawling inside of tauntauns to avoid the icy blizzards of Hoth.  As if you couldn't tell, all of us here at Nerd Appropriate are huge fans of Mass Effect and will probably consume anything and everything Bioware produces with "Mass Effect" on the box.  Heck, I'm just waiting for Target to carry some fancy Mass Effect sleepy pants, because we all know gaming in sleepy pants gives you +10 agility.  One thing we're not fans of however, is retailer exclusive items!  There is nothing worse then having to shop at a retailer you may not like, simply to get some fancy in-game item. Here are some of the items both Gamestop and Origin are dangling in front of our noses. Are these Game Stop exclusives cool enough to make you shop there? (yes!)
The N7 Defeneder Armor Set – The Defender Armor is a variation on the N7 Special Forces' combat gear, built to protect soldiers in long-running engagements where reinforcements may be sparse. When the wearer fires a weapon, the suit's computers divert energy from the main power cell to the gun's kinetic coils, offering an extra punch. The Defender's storage compartments are designed to hold spare thermal clips, while capacitors throughout the armor provide extra power to shields during critical moments in battle. The armor also comes with an injection system built into the suit and neural-linked bio-monitors that help adjust the wearer's breathing rate and adrenaline levels.
 N7 Valyrie Rifle – After the carnage of the Battle of the Citadel, Alliance officers commissioned a new rifle for their ground forces. A variation of the popular Avenger design, the Valkyrie is now standard issue for new recruits. Exceptionally well-crafted, accurate, and packing ample firepower, the rifle is a hot black-market item on the rare occasion it surfaces
 The M55 Rifle – Available for ALL pre-orders.
Origin (PC) Exclusive: The AT 12 Raider Shotgun: The AT-12 Raider Shotgun fires a large pellet spread, ensuring maximum coverage for close-range targets. Designed for superior rapid fire, the AT-12 allows for optimal recovery time between shots.


Mass Effect 3 Invades: 03.06.2012