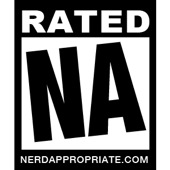 Happy "Nerd Year" 2012 From Nerd Appropriate!
Thanks for joining us this year here at NerdAppropriate.com!  2011 was an incredible year for all things nerdy, and we had an absolute blast talking games, movies, and nerd culture with those of you that were brave enough to check out our content.  While things have been in a bit of a "transition" here at the site, we're not going anywhere!  2012 will feature all new interviews, convention reports, podcasts, and toilet humor, so hold onto your butts!

If you feel like spreading some New Year's cheer, head on over to our iTunes page and give our podcast a rating.  We've published 45 episodes in a little over a year and would love to know what you all think.  You can find the link HERE.   Also, a huge THANK YOU to all of the readers, developers, actors, directors, and game-fans that made this year an absolute joy for us.  Even though we've had a rough month Nerd Appropriate is here for good.  Have a great holiday!