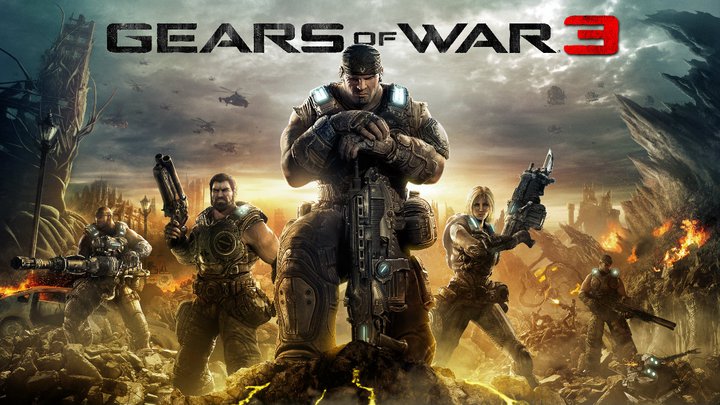 Gears of War 3: Multiplayer Beta Report (hint… it's spectacular)
The past few days I've rushed home from work only to sit in front of the T.V. for hours on end playing the .  I wasn't lucky(or popular) enough to get into the friends and family preview last week, but still I did manage to squeeze in a week early due to my purchase of the Bulletstorm "epic" edition.  While I did get some hands on time at PAX: East, I didn't really have a chance to soak up how amazing Gears 3 is really going to be.  While it's still very much "Gears of War", the folks at Epic have improved on virtually all aspects of the multi-player experience.  The weapons seem balanced, the maps are incredible, and the game-play is near flawless.  Although players still rely heavily on the Gnasher shotgun, rifles have been improved across the board, and if you're good with a lancer you can take down two enemies with a single magazine of ammunition.  Matches borrow heavily from DICE's "ticket" system in that you team only has a certain number of respawns… This leads to some incredibly memorable firefights and "last man standing" match-ups.  The most exciting aspect of the mutiplayer beta is the addition of unlocks and rewards.  While there will be no prestige modes to speak of, players can unlock a variety of characters, weapon skins, and badges for their efforts.  From what we understand these unlocks will carry over into the various other multiplayer modes such as the ultra-popular Horde Mode ™.  After a few hours of play I unlocked the Anya Stroud character model as well as a few weapon skins and another badges for playing as Anya in the beta.  In all honesty I feel as though this beta, while only a fraction of the main game, is nearly worth the price of a full retail game.  Well done Epic.

GEARS 3 BETA LAUNCHING ON XBOX LIVE IN APRIL
Enlist in the most explosive gaming event of the spring: the Gears of War 3 Multiplayer Beta!
Get into the Beta by preordering Gears of War 3 through select retailers. The Beta begins April 25 and ends May 15.
For those of you who purchased the Bulletstorm Epic Edition (on Xbox 360 only), you get early access to the Beta, beginning April 18.
Three new multiplayer modes and four exclusive maps will be rolled out during the Beta period — all running on dedicated servers. This is your chance to help shape the most anticipated game of 2011.
In the Beta you can play Team Deathmatch mode on the four new maps (Thrashball, Checkout, Trenches, and Old Town); Capture the Leader and King of the Hill gameplay modes will be added later in the Beta period. Also, be sure to look out for a surprise event weekend that you won't want to miss.
Not only will you get an early taste of the final chapter in this blockbuster trilogy, but you'll also have access to exclusive content that you can permanently unlock and carry over to your Gears of War 3 gamer profile when the retail game launches on September 20.
Exclusive Beta Unlockables
Flaming Hammerburst
Complete one match by Sunday, April 24 to permanently unlock.
Flaming Lancer
Complete one match during the week of April 25 to permanently unlock.
Flaming Sawed-Off Shotgun
Complete one match during the week of May 2 to permanently unlock.
Flaming Gnasher Shotgun
Complete one match during the week of May 9 to permanently unlock.
Beta Tester Medal — Wear it proudly, Gear.
Complete one match in the Beta to permanently unlock.
Thrashball Cole — Unlock Thrashball Cole to play as Augustus Cole as he was before Emergence Day — a legendary Thrashball athlete known for his ferocious, flamboyant style.
Complete 50 matches in any game type to unlock for the Beta period.
To permanently unlock, complete 10 matches as Thrashball Cole during the Beta period.
Gold-Plated Retro Lancer — Before the chainsaw bayonet was deployed at the beginning of the Locust-Human War, the original Lancer assault rifle had a large fixed blade.
Complete 90 matches in any game type to unlock for the Beta period.
To permanently unlock, score 100 kills with the Gold-Plated Retro Lancer during the Beta period.