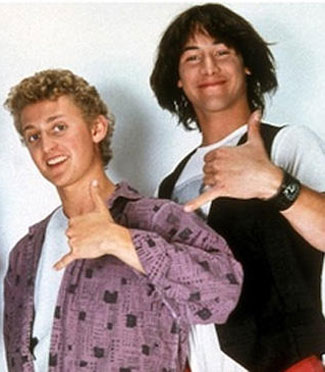 Bill and Ted 3: script six weeks away!
Bill and Ted's Excellent Adventure is a special film for me.  As a little snot of a kid I peddled my BMX  to the local cineplex to see the film because I loved metal music and time travel.  Much to my surprise I left the theater loving history.  Now, as an adult, I teach kids all about characters such as: Genghis Khan, Joan of Arc, Abe Lincoln and Socrates (pronounced So-Crates.. duh).  Needless to say, fans of the series have always wanted a third film. Two simply weren't enough. I've followed the history of this franchise for years now and always found one thing pretty remarkable, both Keanu Reeves and Alex Winter have nothing but respect for the characters and the franchise.  You think after being mocked for years Keanu Reeves would hate the character of Ted, but that's simply not the case, Keanu knows that Ted made his career what it is, and warmly embraces the dimwitted character. Also, it should be noted that Keanu and Alex are still close friends despite not having worked together in almost 20 years.  To the delight of fans they've both agreed to slap on their guitars and play Bill and Ted yet again …once the script is finally complete that is.  So what's taking so long?
The Script
According to this interview with MTV, Keanu states that the script (written by the original writers) will be complete around May 15th 2011. Keanu also hinted that the film would likely focus on Bill and Ted's inability to write the music that was destined to save the world. While details are still a bit scarce, we here at NerdAppropriate.com will deliver everything we can find on this iconic franchise. Until then, enjoy this conversation with Keanu about Bill and Ted 3! EXCELLENT!