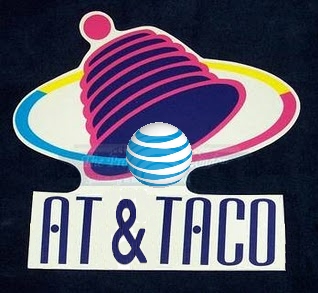 Breaking: Taco Bell to buy AT&T for $215 billion. Demolition Man future one step closer to realization.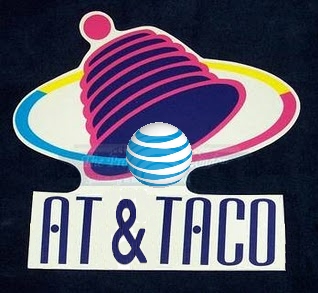 In a stunning move tortilla behemoth Taco Bell Corp has struck a deal to acquire telecommunications giant AT&T. In a recent press conference a spokesman for Taco Bell Corp stated that "with this newest acquisition we will revise the current acronym American Telephone and Telegraph to American Telephone & Tacos. I mean, who still uses a telephone anyhow, much less a telegraph? And what's the deal with airline food?"
Analysts project that, if approved by the FCC and FDA, AT&Tacos will become single largest "Mexican Fast Food & Wireless" corporation in the US. The proposed deal stipulates that Taco Bell Corp must provide AT&T with 9 billion dollars worth of burrito filling, should the deal be rejected by the FDA, roughly equating to 47.2 metric tons of "beef", cheese product, and refried beans. "This acquisition totally makes sense because AT&T used to be one of the Bells and Taco Bell IS a Bell," Senior GlobalCorp Holdings International analyst Rodney Jenkins said.
Top lawmakers have praised the move. "I am confident that this merger will strengthen our nations ailing job market. Clearly, I believe anyone trained to work at Taco Bell could easily transition to a customer service role meeting the current quality of service provided by the no. 2 carrier in the US" says Tom Mooresmith (R-WV).
BENEFIT TO THE CONSUMER?
A senior VP at Taco Bell Corp also described the added benefit to the consumer "by having the ability to enjoy low-grade quality pseudo-Mexican food while shopping for wireless and tablet services. " Shares of both AT&T and Taco Bell Corp rose 2% on the news of potential Taco Bell/KFC/AT&T/Pizza Hut/Long John Silver/A&W Hot Dog restaurants as a result of the merger.
"We will also introduce a new Tiered Tacos feature to our current wireless plans that will allow consumers to enjoy various combinations of tortillas filled cheese, beans, or meat based on a monthly consumption-based plan." It is not yet known if AT&Tacos will engage in the practice of Nacho Throttling, although senior executives defend the practice by stating that, "the top 5% of nacho consumers are responsible for 50% of taco consumption, those customers will be offered complimentary Cinnamon Twists for their trouble."
Consumers are clearly divided on the news of the merger. "I'm not sure I can eat a burrito without spilling sauce on my iPhone. And furthermore, what will happen to the cost…" Unfortunately, the call was cut off before reports could obtain the remainder of the statement and name of the caller.
ATTENTION TURNS TOWARD SPRINT
"We really thought our current logo lended itself well to the shape of a Nacho." It is unknown whether the no. 3 wireless carrier will seek a similar acquisition. A spokesman for the company recently stated, "Burger King is at the top of the list… no… I'm just talking about myself. I really like those French Toast Sticks."
STALLONE PLEASED
"I always knew we were right about the future." The comment was made with respect to the 1993 film Demolition Man which depicts a future in which Taco Bell wins the restaurant wars and moves into upscale dining. Reporters quickly pointed out that this statement was only "kinda accurate" in that Taco Bell is moving into the wireless space and not fine dining. Representatives for Mr. Stallone or Ms. Bullock could not be reached for a reply. Mr. Snipes is currently serving a multi-year prison sentence for tax evasion.
A government sub-committee for the merger is slated to reach an approval decision by April 1, 2012.