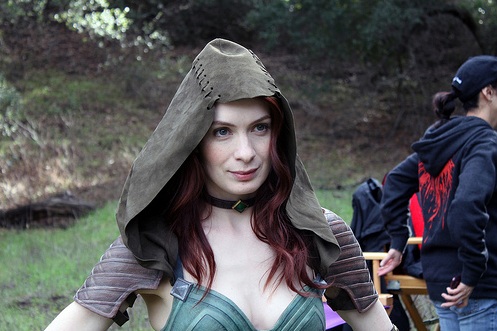 Felicia Day: Dragon Age Redemption *updated -w- teaser!*
The internet exploded this morning with information so amazing, it can simply be described as "epic".   One of our favorite nerds, Felicia Day has been hinting at a #secretproject for weeks now, but details have been scant at best.  Well this morning, bright and early, the bomb was dropped.  Felicia Day was approached by Bioware to create a web-series based on their Dragon Age franchise!  This was something I wasn't aware that I really wanted until it actually existed, sort of like sweet and spicy Doritos (soooo good).  Felicia was tasked with writing the adventure, as well as being the female lead, much like she does for her award winning series The Guild.  Let me break down what we know thus far.
Her Character – An Elven Assassin named Tallis.
The World – Ferelden during the events of Dragon Age 2.  Meaning the blight is over, and the world is in relative peace.  Anything is better than an Arch-Demon right? (… I hope Flemyth shows up)
The Adventure – From what Day states, it will be a tale of adventure as Tallis must assemble her team and track down a rogue mage (an apostate).
The Budget – Still very slim, but much higher than The Guild.  The Guild is famous for making things look great with no money, that being said… this will look very pretty.
The Crew – Directed by Independence Day producer Peter Winther.  Director of Photography John Barley of LOST.. yes that LOST..
How Many Episodes? – Six in total for now… there will be more.
Who else is in it? –  I asked Felicia Day during a chat this afternoon (nothing fancy there were a few hundred of us in the room… I'm not that cool.. haha) what familiar faces we could see in Dragon Age Redemption and she replied " George Clooney and Julia Roberts"… Thanks for that news :p
Anyone from the Dragon Age Games?: It appears not.  All the characters are of Day's creation.
You can read more about Felica's upcoming adventures in the land of Dragon Age in her offical USA today interview. Felica Day breathes fire into the Dragon Age Series (we need to start writing articles with titles like that)
When can you see it? – This Wednesday you can see the first exclusive trailer on our friend Jimmy Fallon's show (again.. 1 sided friendship).  And we will have the clip to view here as well!