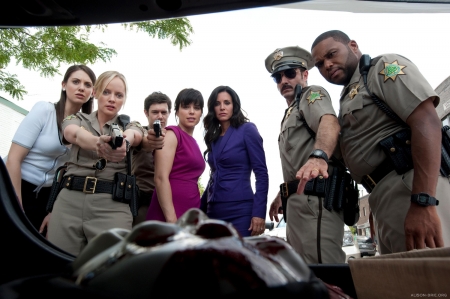 Scream 4: new trailer drops (literally!)
Say what you will about the Scream franchise, but Wes Craven knows how to do Horror. The Scream films did so well ($436,248,040) that they single handedly revitalized the slasher genre, and spawned 100s of pathetic copy-cats.  1990s slasher films like I Know What You Did Last Summer and Urban Legend owe everything to Scream.  The genre was dead prior to its release, and people didn't even realize how badly they missed it.  I remember sneaking into the theater to see the original Scream before I was old enough to legally buy a ticket.  It was one of the few times I've seen people leave the theater because they were so uneasy.  It's not everyday you see the child star of ET with her intestines hanging out.  Well, Scream 4 is only a few months away, and the surviving cast returns for one last hurrah. Oh yeah, there will also be a ton of fresh meat to be killed in terrible terrible ways.
Who are some of these new faces?
Hayden Panettiere …
Rory Culkin …
Nico Tortorella …
Marielle Jaffe …
Marley Shelton …
Mary McDonnell …
Adam Brody …
Anthony Anderson …
Alison Brie …