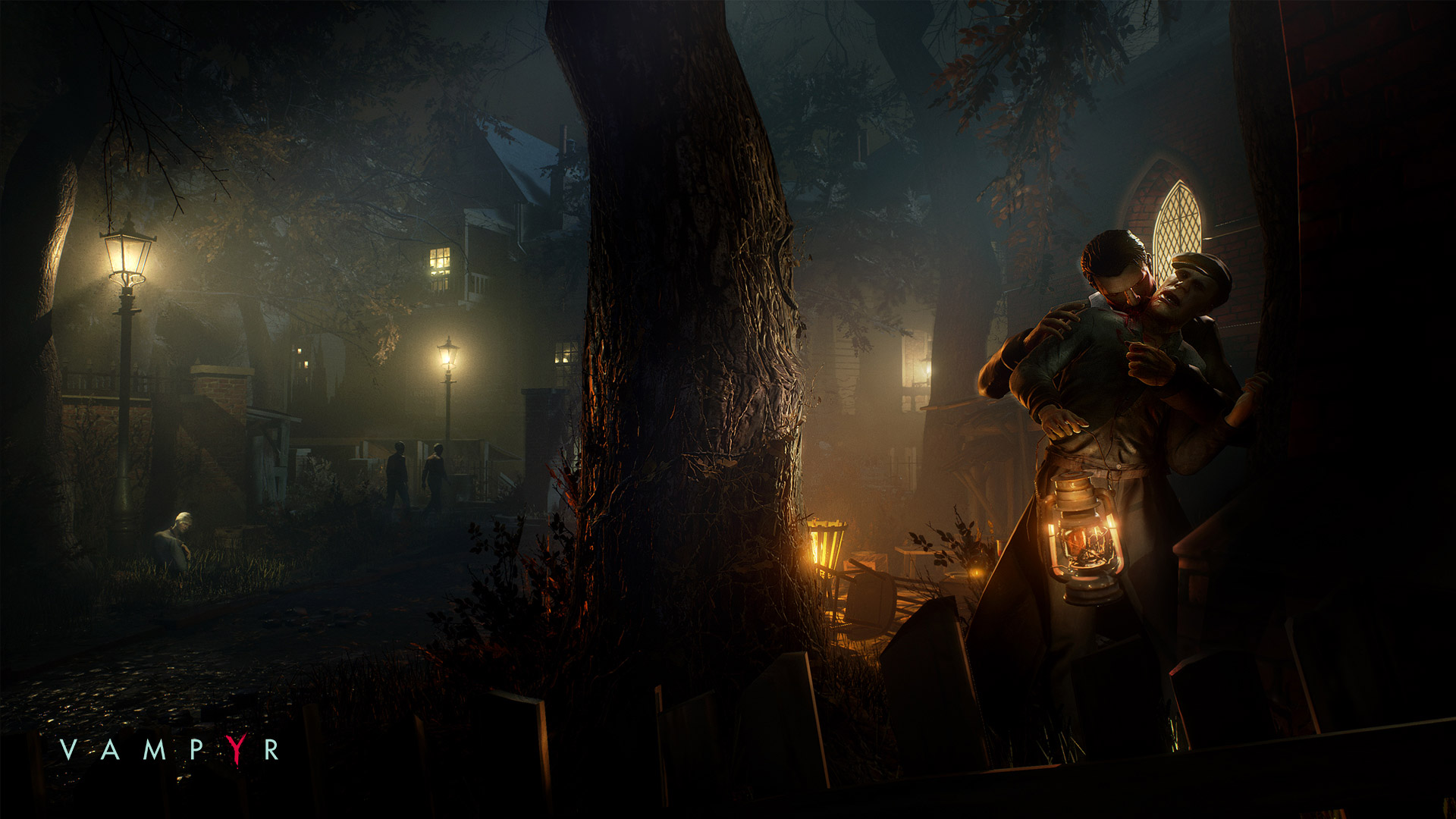 Review: Vampyr is a dark and moody action RPG with serious cult-appeal
Vampyr is the latest game from DONTNOD, makers of other excellent games such as Life is Strange and Remember Me. Vampyr is an interesting and surprising game, to be sure, as it combines elements of those latter two games. Having avoided a lot of preview information prior to release, I jumped on this game on the cred of the publisher and the content of the game alone and am stoked with what this game turned out to be.
Vampyr is an action RPG, set in the dark and moody setting of London, just after WWI. You play as Jonathan Reid, a medical doctor who returns from the war to find London ravaged by industrialization and the outbreak of the Spanish Flu. Right at the outset of the game, Jonathan is embraced by a mysterious figure and becomes a vampire.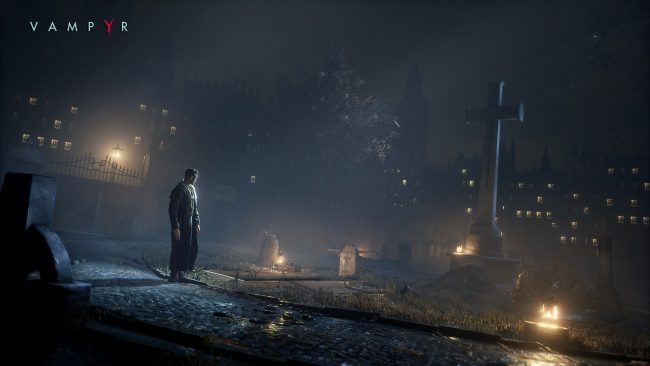 Given how difficult and plague-stricken London was after the war, it is the perfect setting to explain away vampires and their associated activities around the city. The interesting twist in this game, however, is that Jonathan finds himself torn between his oath as a doctor, and his thirst for blood as a vampire.
That sets up the gameplay in Vampyr in a very clever way. Being an RPG, you need XP to level up your skills and abilities to battle against increasingly difficult vampire hunters, humans ravaged by the city, and beats with heightened strength and speed. Destroying those enemies will net you XP, of course, but that certainly takes time. On the other hand, you have the option of draining the blood of other human NPCs that you encounter in the game… but there's a catch.
The action in Vampyr is largely quest driven, and the NPCs are the ones to dole out those quests. So… killing an NPC may result an entire quest line that is now unavailable. The game is also very dialogue heavy. Each of the game's four districts has a myriad of characters to encounter with interesting stories, and those stories intertwine with other residents in town. The narrative feels very intimate, both for Jonathan and between the residents, and I appreciate Vampyr for not sending me on a quest to save the entire universe, as so many other games do.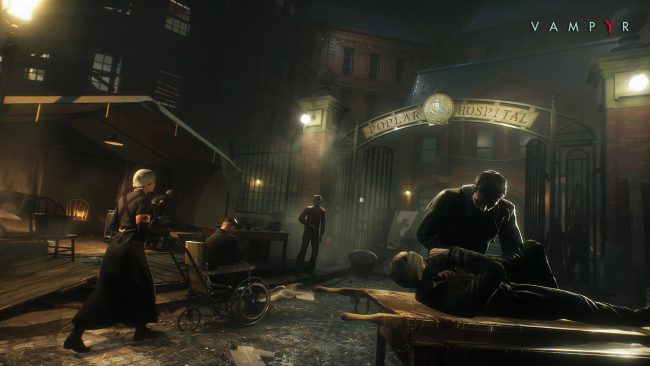 Each district also has a health rating, which you can choose to improve by tending to NPC ailments using your crafting skills and medical training. Keeping a district healthy also reduces the threat of encountering (increasingly difficult) enemies, though it also improves the quality of the NPC's blood (e.g., the amount of XP that you'd get from killing them). Without an in-game difficulty setting, the choice of how much you want or need to level up is entirely up to you.
And Jonathan has some rad abilities available to him. His offensive abilities include blood spears, shadow-based AOE bombs, and devastating claw-melee attacks. To defend himself, Jonathan can self-heal, create a temporary shield, or become momentarily invisible. If you are playing on the "no kill" path you will not be able to run out the skill tree, so pre-planning your strategy is key.
You've also got a variety of melee and ranged weapons at your disposal including a scythe, swords, clubs, in addition to ranged weapons and secondary weapons. What makes the game great is that DONTNOD has built a ton of variety in, so you can choose to approach combat however you want, and I'm having a blast with it.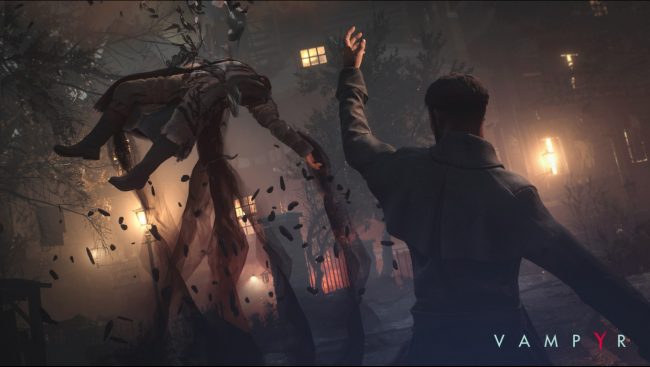 I'm sort of a sponge for the NPC interactions, so the game has been something of a slow burn for me, but in a good way. And the semi-hardcore nature of the combat system will probably not appeal to everyone, but I feel that this game falls into a great niche and should garner a cult following. While not a part of the old "World of Darkness" Vampyr, for me, scratches that itch left by another excellent vampire game, Vampire: The Masquerade – Bloodlines. Further, I'm stoked that DONTNOD is still flexing their action muscle, while also infusing dialog-based interactions that they've obviously been so successful with.
Vampyr provides a great mix of action, RPG, and narrative elements with solid player freedom to explore the space that DONTNOD provided. This game should appeal to fans of hardcore-type action games, vampire stories, and may also find broader appeal among achievement hunters and players that are just looking for something a little different from the norm. Vampyr is another solid entry from DONTNOD and I'm excited for what they sink their teeth into next.
Happy Gaming.