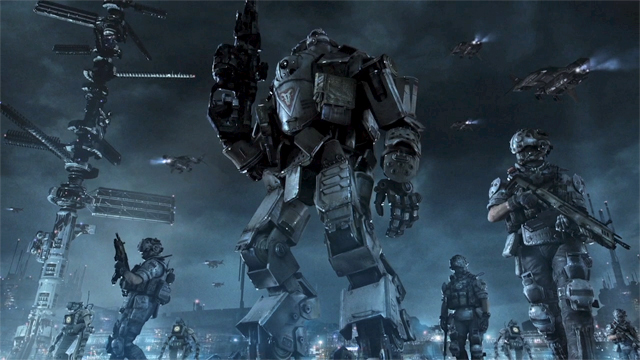 E3 2013: Falling Hard for Respawn's Titanfall
Despite all of the mudslinging and media generated competition coming out of this year's E3, some incredibly promising games have been announced. The minds behind Call of Duty: Modern Warfare have given us something to really look forward to on the Xbox:One… Big robots with big guns.  Respawn Entertainment's Titanfall closed out Microsoft's press conference yesterday and is currently generating a lot of positive buzz. In the strictly multi-player shooter, players will be able to summon and pilot massive 24 foot tall battle mechs called Titans. While most modern shooters have the player scrambling for cover with two feet firmly planted on the ground, Titanfall also appears to boast vertical movement by way of jet pack, along with a climbing and free running mechanic. So… Giant robot AND jet-packs.
We've been eagerly anticipating Respawn's debut (see article: Can Respawn Save us From FPS Groundhog Day?) game for quite some time, and have really high hopes that something truly unique is being made. Just imagining all the guns, grenades, perks, and powerups is making me salivate. I may even attempt to make my own Titan out of crap laying around my garage… wish me luck.
"It's an exciting time in the industry and it feels like the perfect time to be unveiling Titanfall," said Vince Zampella, a Co-Creator of Call of Duty and Co-Founder of Respawn Entertainment. "Our passion at Respawn is games and we are focused on bringing something exciting to kick off the next generation of software."
Sounds good to us
Respawn's Titanfall will launch sometime in 2014 for Xbox One, Xbox 360, and PC.