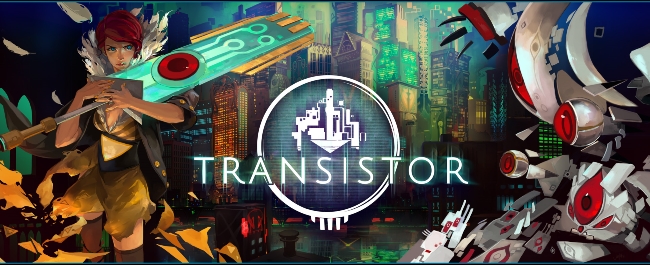 Transistor, Hands-on with Supergiant Games' next hit at PAX East 2013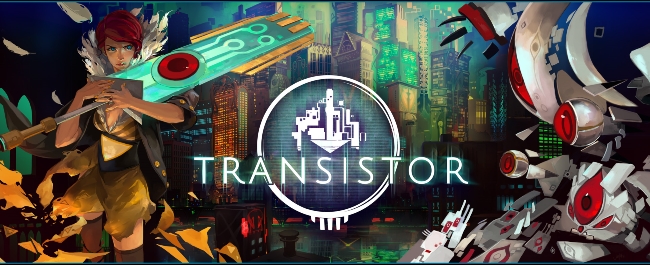 Transistor… in a word, speechless. The NA gang was fortunate enough to visit the Supergiant Games booth during PAX East 2013 to get a hands-on demo with their latest title, Transistor, and then spend a few moments chatting with Creative Director, Greg Kasavin.
You'll recall that Supergiant Games created the much-beloved Bastion. This game used a clever dynamic narration system and action-RPG elements to create a rich fantasy world, which popped with vibrant colors and a killer soundtrack. With such seemingly simple elements, the game was able to draw players into a rich narrative and create plenty of feels, within players, for the characters and the world itself.
That small team of 7 (now a whopping 10) is back to announce their latest project, Transistor. You know Transistor is a Supergaint Games project as soon as you lay eyes on it, but it would be a huge disservice to describe Transistor as being the same as Bastion. Through the immense talents of the development team, they've created something that has that Supergiant aesthetic (so happy that is a thing), but is fundamentally different from Bastion. Transistor has an identity all its own.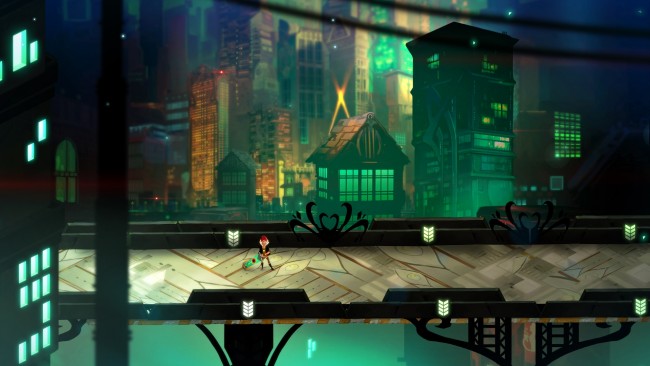 Transistor is a sci-fi action RPG, which takes place in the vast metropolis of Cloudbank. The art style makes the environment feel enormous, beautiful but almost intimidating. You play as Red, a singer whose voice has vanished. She discovers an extraordinary weapon, the Transistor, and is pursued by enemies who will stop at nothing to recover the weapon. The Transistor, cleverly, also appears to provide the narration for the game as well.
The Supergiant Games team is excited about the direction of the story, "it is important to start off our stories with a lot of mystery. Hopefully players feel assured that we are going to pay that off, and that, by the end, questions are going to be answered."
We also spent a few minutes talking about the decision to create a female protagonist  and the place at which Transistor and Bastion diverge, creatively. Greg explained, "[It] was not a particularly difficult choice for us. The characters we create… they're designed to reflect the world they come from. In Bastion you play as a scrappy, luckless kid, living a hard lifestyle… working with a hammer that's way bigger than he is. You're supposed to kind of feel bad for him." (Red is much longer and elegant) "Bastion is a frontier world. Cloudbank is a grand city, people have it pretty good until bad things start happening. There is an elegant singer [who] gets into a pretty bad situation, she is a reflection of the world. She represents the kind of story we want to tell with this game."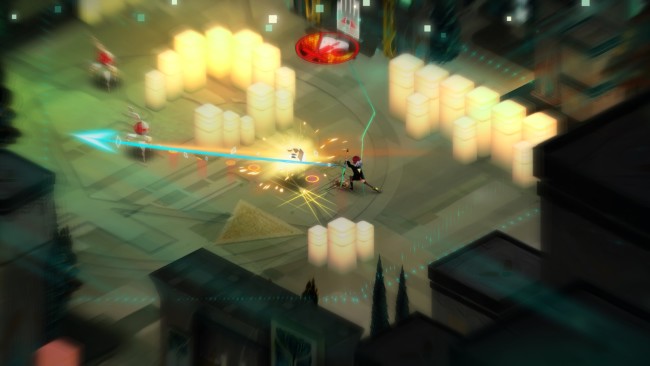 Similarly, the combat system is a reflection of the sci-fi inspired world created within the game. The Transistor is a weapon which looks like a giant sword you might find in a JRPG. When you first acquire the Transistor you find yourself with a limited set of hack and slash style moves, but the game quickly takes a mind-blowing turn. 
You quickly discover a tactical ability, Turn, that allows Red to freeze the action and plan a sequence of movement actions and attacks. Your total Turn is limited, so figuring out where to move and who to attack is of critical importance. It opens up a great variety of ways to approach combat. Its amazing, and challenging, the moves you execute after the planning is done occur in faster-than-real-time, but enemies are not frozen when the actions are being carried out. So, for example, that long range attack you planned at the end of your sequence might totally miss because the enemies move as the plan is executed.
As Greg explained, "there's the plan, and there's the reality."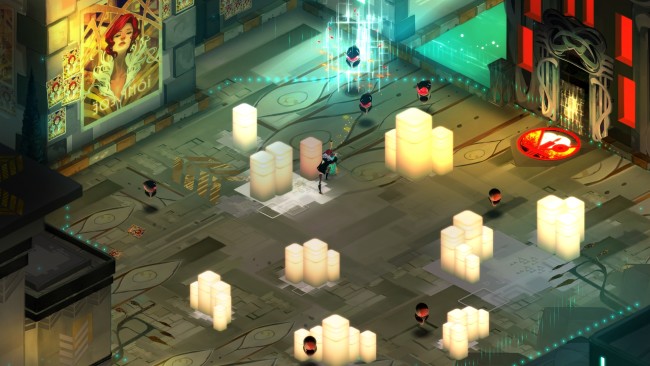 Gameplay is further enriched through combat abilities. During the demo we experienced a number of abilities, a variety of short and long ranged attacks, some that benefited a brawling style of play, and others that suited a more elegant strike and vanish style of play. Even around the office, the Supergiant Games team discovered that some people went straight into the action, while others took a ruthless, terminator-style approach in using Turn to plan every move. We learned that, later in the game, some abilities might work better in Turn, while others are more conductive to real-time combat (see what I did there).
The entire demo was maybe 15 minutes long, but I was hooked right at the title screen by the heart-pounding theme song (Darren Korb) and haunting vocals (Ashley Barrett), I literally got chills. I don't think I was alone in this sentiment. The response by the fans was overwhelming, the booth was crowded with fans eager to play all weekend. When we asked about the fan response: "We're incredibly grateful for it, but we still have a lot of hard work ahead of us. There's nothing like this to embolden us to keep moving forward… [the response] is still sinking in for us."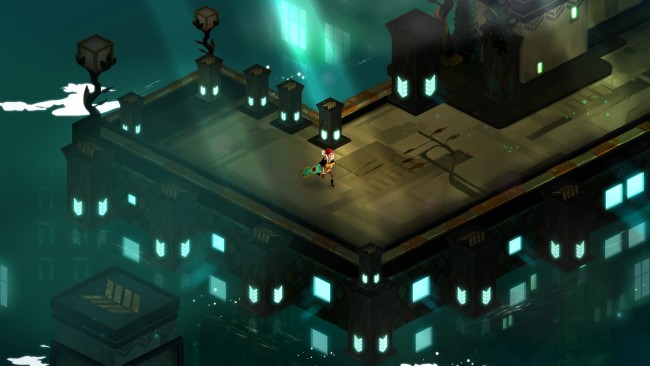 At one point we joked that, based on the traffic at the booth, Supergiant Games could simply become a merch company and do just fine. A joke that was answered with an inspiring response, "I'm in this to make games. T-shirts are fine, but I'm glad to have [Transistor] out there, and to get back to work and move forward with confidence."
It's that passion that perfectly manifests itself in Transistor, and we couldn't be more excited for the kind folks at Supergiant Games. We feel it's going to be amazing, but we will all have to wait… until 2014. Until then, put this on repeat…