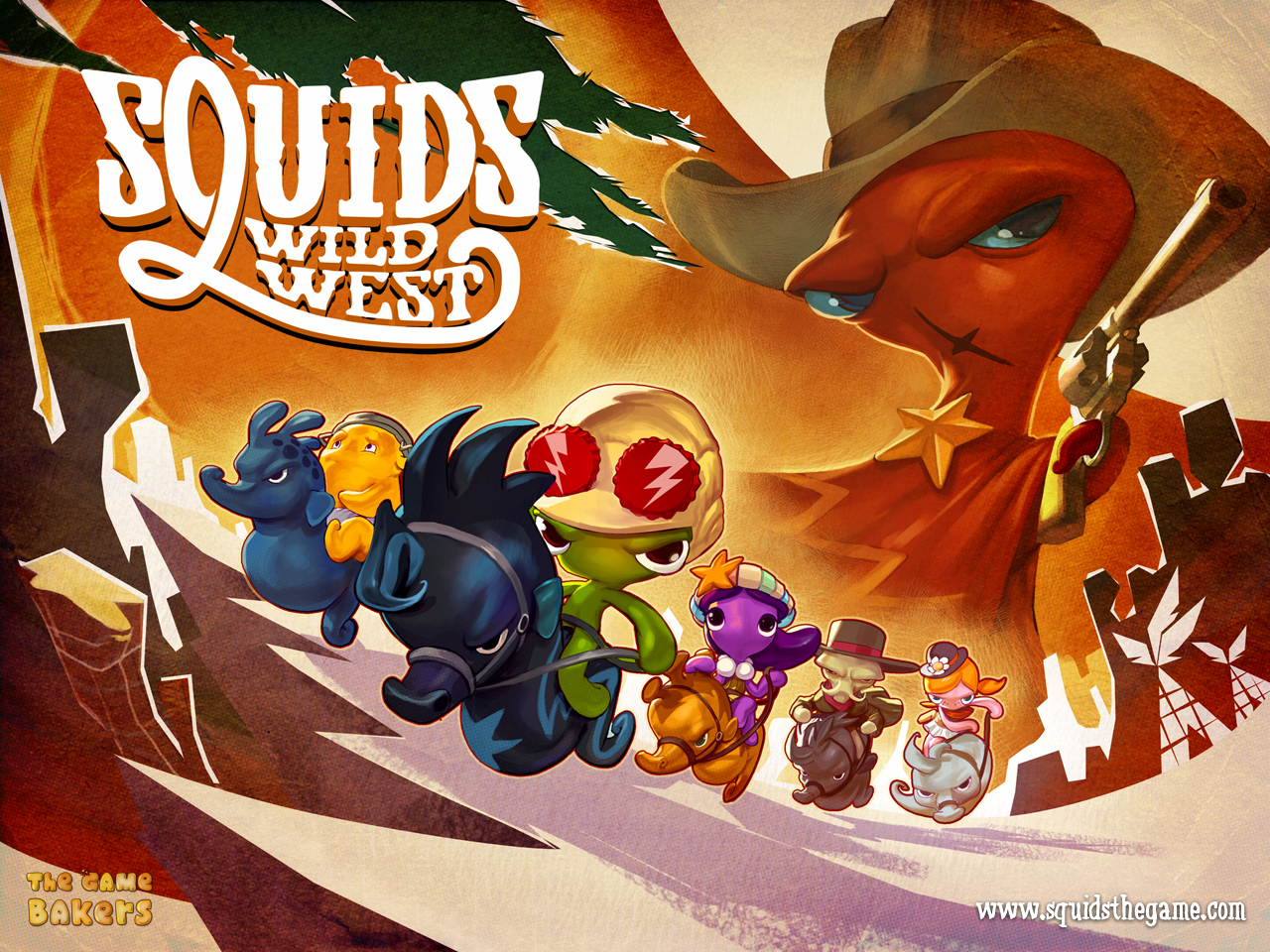 Buck up kiddo, "SQUIDS Wild West" rides into town this summer
SQUIDS is casual-RPG game that is much loved around the NA headquarters. You take a team of characters with different attributes and different abilities into battle (think Shining Force with an AngryBird-style movement mechanic). Characters are upgraded throughout the game and can be outfitted with different gear. The real shine on this game is the top notch art and soundtrack.
With excellent gameplay, high replay value, and such loving attention to art and music SQUIDS is a game not to be missed. Now, we can finally look forward to the next installment:
Introducing SQUIDS Wild West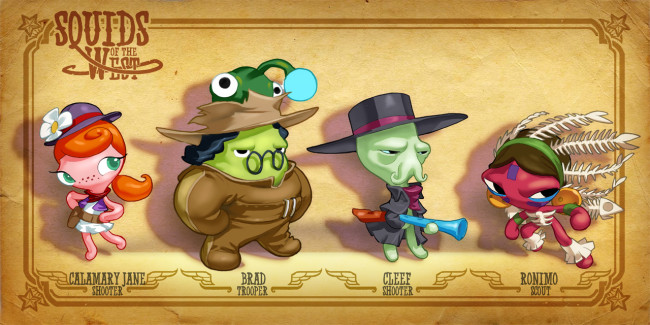 The fine folks at The Game Bakers have announced that a sequel is in the oven and will be ready to serve this summer!
Get a whiff of this, the original SQUIDS is getting a free update today to include three additional missions, a preview character, increased level cap, and new enemy! Delicious! (These baking puns doing anything for you?)
While you're waiting for the app to update, feast your eyes on these screenshots: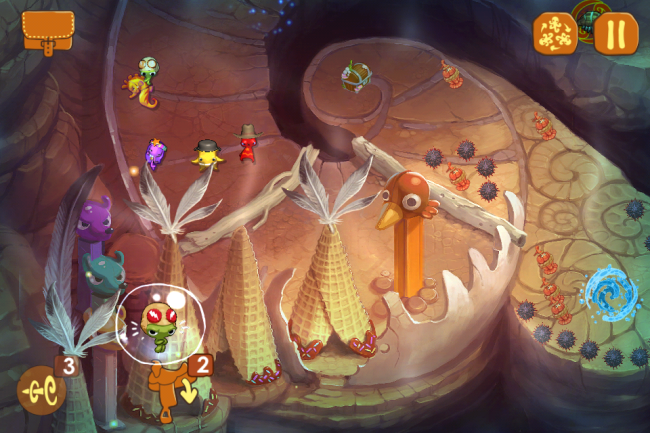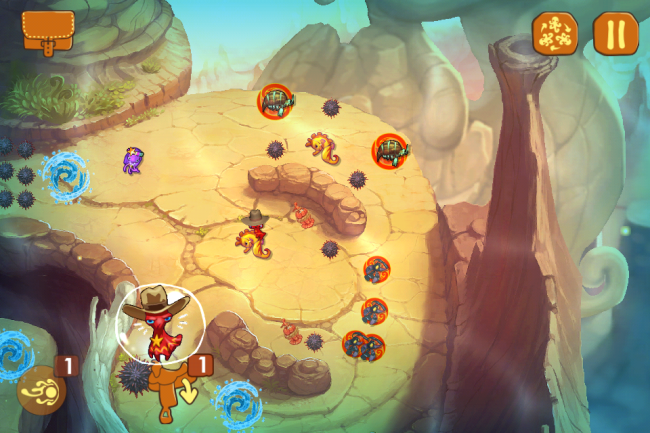 And there's no reason not to pick up the original right now — SQUIDS is now a multiplatform (Mac and PC too) game in addition to the iOS offerings (http://itunes.apple.com/app/squids/id467904350)
Happy Gaming.
[spoiler intro="click to read" title="Press Release"]
Yeeeee-haw! SQUIDS Wild West Gallops Onto the App Store This Summer
Get a Sneak Peek of the New SQUIDS Game Today via Free iPhone / iPad Update
PARIS – May 23, 2012 – The Game Bakers, creators of the fan-favorite mobile RPG SQUIDS (http://itunes.apple.com/app/squids/id467904350), are announcing that the next chapter of their undersea saga, SQUIDS Wild West, will release for iPhone, iPad, and iPod touch this summer. Even better: eager players can get an early look by downloading SQUIDS' latest free update from the App Store, which includes three bonus levels set on a SQUIDS Wild West map.
SQUIDS follows a band of unlikely heroes who must protect their idyllic underwater kingdom from the destructive black ooze settling over the seas. Set in the western kingdom of Seawood, SQUIDS Wild West takes the group into deeper, more dangerous waters as they regroup against oily crustacean enemies and search for a fallen comrade. They'll help the feisty Calamary Jane save a besieged frontier town, explore native Squid lands and a volatile mine, and start to understand the evil they're up against — but not without paying a terrible personal price.
SQUIDS Wild West will be a Universal App with more of the gorgeous cartoon art, jaunty music, and humorous storytelling that made SQUIDS a fan favorite. Like the original, SQUIDS Wild West combines tactical RPG-inspired gameplay with the convenient interface of the iPhone, iPad, and iPod touch. Although turn-based battles are easily fought using an Angry Birds-style "flinging" mechanic, SQUIDS Wild West provides a much deeper challenge than the average mobile game. Strategy and skill are required as players use environmental elements, the Squids' strengths, and enemies' weaknesses to succeed. With devious new enemies, four new playable characters, and nearly twice as many levels as the original SQUIDS, the upcoming sequel also has many fun gameplay surprises — including seahorses that you can corral and ride into battle!
In today's free update, SQUIDS players can dive into the Wild West with three missions that take place in Seawood. This exclusive sneak peek introduces a new Squid hero: Cleef, a vengeful gunslinger with secrets to hide. And a formidable enemy, the massive Buffalo Shrimp, will rear its ugly thorax. The update also features a new Game Center achievement, a new level cap, and enhanced social media functionality. Those who own the original SQUIDS on iOS can download today's free update from the App Store, while new players can buy the game (with the SQUIDS Wild West demo included) for just $1.99: http://itunes.apple.com/app/squids/id467904350
The original SQUIDS has been downloaded over a million times and has ranked as the App Store's #1 RPG in 65 countries. Since its October 2011 release, it has maintained a perfect 5-star fan rating on the App Store. It is also available for Android, PC, and Mac.
To learn more about SQUIDS and the upcoming SQUIDS Wild West, visit the official website at http://www.squidsthegame.com. SQUIDS fans can befriend the game's tentacular heroes on Facebook (http://www.facebook.com/squidsthegame) and Twitter (http://www.twitter.com/squidsthegame).
About The Game Bakers
The Game Bakers is an independent video game studio based in Paris and Montpellier, France. Founded and staffed by industry veterans whose credits include numerous AAA console games, The Game Bakers focuses on creative projects that combine traditional gaming values with the best of the mobile experience. Their first game, SQUIDS, has had more than one million downloads and can be enjoyed on iOS, Android, Mac, and PC. To learn more, visit the company's website at http://thegamebakers.com. The Game Bakers are also on Facebook (http://www.facebook.com/thegamebakers) and Twitter (http://twitter.com/thegamebakers).
[/spoiler]