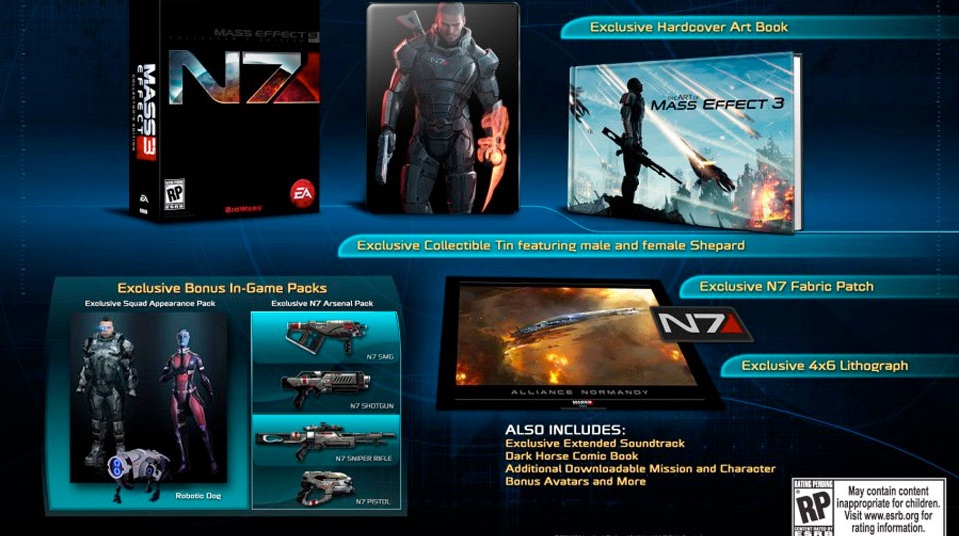 Mass Effect 3: Picking apart the N7 Collector's Edition.
Mass Effect 3 had a major showing at day 1 of the E3 convention.  We're going to comb through it all as the day progresses, but we figured we'd start with the Mass Effect 3 N7 edition contents.  I'm going to be honest with you, if this edition cost $400.00 and had life sized statue of Yeoman Chambers I'd probably find some way of buying it.  From what we know now, the N7 edition looks very promising, although I rarely read an art book more than once. Have a look!
Collector's Edition Mass Effect 3 –  The N7 edition ($80) boasts a shit load of great extras for YOUR extra cash.  In-game content, above art books etc, is always my favorite edition to any collector's edition.  In the case of the N7 edition you will gain access to : A Robotic Dog (which no doubt functions like DA2's Mabari), Bonus N7 weapons (cool), exclusive companion outfits, and an additional downloadable mission and character.  If you could care less about in-game items (shame!) the game also comes with a tiny lithograph (a fancy picture), a hardcover art book,  Mass Effect 3 comic book, an N7 patch (that you'll never dare put on anything), downloadable extended soundtrack, a Normandy avatar 360 prop.  But wait, there's more!  Depending on WHERE you buy your collector's edition there will also be exclusive pre-order bonuses from various retailers.  For instance, if you buy your copy at Wal-Mart you get a DVD of THIS video (man I really hope you clicked that).