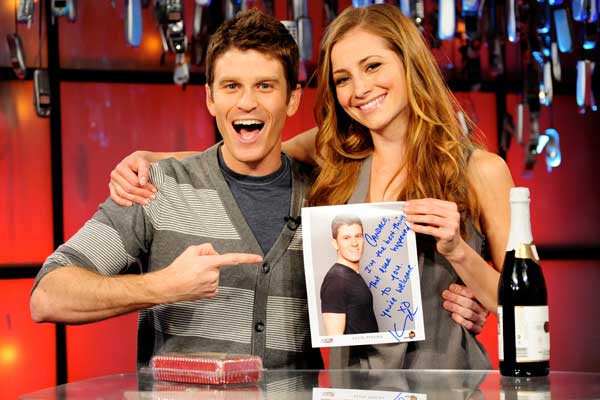 G4's "April the Twentieth" programming – What's so funny?
G4 is one of the few reasons I'm hanging onto cable. Few channels offer up exactly the type of programming I feel like watching after a long day at work.   Yeah, it can be silly, juvenile, and repulsive, but so can I!  Today G4 offers up a wide variety of programming geared toward America's new national holiday, "April the Twentieth".   Why has April the 20th become a holiday?  Well a long time ago a group of friends calling themselves "The Waldos" (due to the fact that they hung out around an old wall… good thing they didn't hang out in a pickle factory) went on a hunt for a mysterious "crop formation."  The Waldos decided to meet by an old statue around 4:20 PM.  After a few failed adventures they began to shout "4:20" at one another and used it as a secret code phrase of sorts. Think if it sort of like The Goonies, but a bit more slow and paranoid.  Like most secrets, word got out,  and now "4:20" is almost a national holiday.  G4 has some special programming they'd love for you to watch.. Details below.
G4 DEDICATES AN EVENING OF PROGRAMMING TO POP CULTURE PHENOMENON "420"
"420" Programming Line-Up Includes
"ATTACK OF THE SHOW: 420 SPECIAL"
"A VERY 420 X-PLAY…MAN" and
"WEB SOUP'S 420 SPECIAL"
LOS ANGELES, April 11, 2011 — For the fifth year in a row, G4 dares to be the only network to dedicate an evening of programming to the ever popular "420" holiday. Celebrating the growing mainstream acceptance of this otherwise alternative culture,  the night begins with specially themed all-new episodes of the network's core franchises "Attack of the Show!," "X-Play" and "Web Soup." The evening culminates with the cult film "This is Spinal Tap," Doug Benson's acclaimed documentary "Super High Me" followed by "The High Road with Doug Benson."  G4's "420" programming event begins with "A Very  420 X-Play…Man" at 6:30 PM ET/PT, "Attack of the Show: 420 Special" at 7pm ET/PT followed by "Web Soup's 420 Special" at 8 pm ET/PT.
G4's "420" Programming Guide:
"A Very 420 X-Play…Man"
6:30 pm
Adam Sessler, Morgan Webb, and Blair Herter call in sick for 420 and count down the 'Top 7 Games for 420' from a secret location. Discover the 5 Best Gamer Foods for the Munchies and experience 30 Seconds of Awesome: STONER Edition.
"Attack of the Show: 420 Special"
7pm
Celebrate this year with "Attack of the Show!" as Hosts Kevin Pereira & Candace Bailey explore cannabis and the stoner lifestyle from the U.S. to Europe's most celebrated cannabis destination: SPAIN!
Viewers will take a trip to the grow farms of the emerald triangle to a 10,000 square foot nursery in Palm Springs, ride along with a collective that delivers and then stop off and go shopping at an all-ganja farmers market.
But it doesn't stop there – viewers will fly across the globe to the Spannabis cup in Barcelona, where Alex Sim-Wise explores the world's biggest pot festival, to see the crowning of the number one strain in Europe.  Returning to the States, viewers will see when what happens in Denver at High Times Medical Cannabis Cup!
Sara Underwood will deliver POT News from around the world in the WEED FEED as well as report from the party to end all parties – Carnival in Brazil!
"Web Soup's 420 Special"
8 pm
"Web Soup" celebrates the most altered day of the year with an entire episode of 420-themed videos and comedy sketches.  Host Chris Hardwick unveils the trippiest, most unbelievable videos on the internet – and teaches the "Web Soup" audience a few things about the perils of recreational drug use.
For more information, please visit http://g4tv.com/420
About G4
G4 offers the last word on gaming, technology, animation, interactivity and "geek culture" for the male 18-34 demo. The network has given young guys of today's digital generation a television home. G4 is the #1 podcasted cable network in America and is available in 59 million cable and satellite homes nationwide. G4tv.com is a top web destination for video game news and information. The network's popular original programming includes "Attack of the Show!," "X-Play," "American Ninja Warrior" and "Campus PD." G4 also continues to expand its live event coverage at CES, Comic-Con, E3, Tokyo Game Show and more. The network's key acquisitions include "Heroes" and "Lost." G4's Multiplex features content on all possible digital platforms, including G4tv.com, G4 Mobile, G4 Podcasts, G4 on Demand, G4 Video Player, G4 Wii Portal and G4 PS3 Portal. G4 is a network of NBCUniversal Cable Entertainment, a division of NBCUniversal, one of the world's leading media and entertainment companies in the development, production, and marketing of entertainment, news, and information to a global audience.