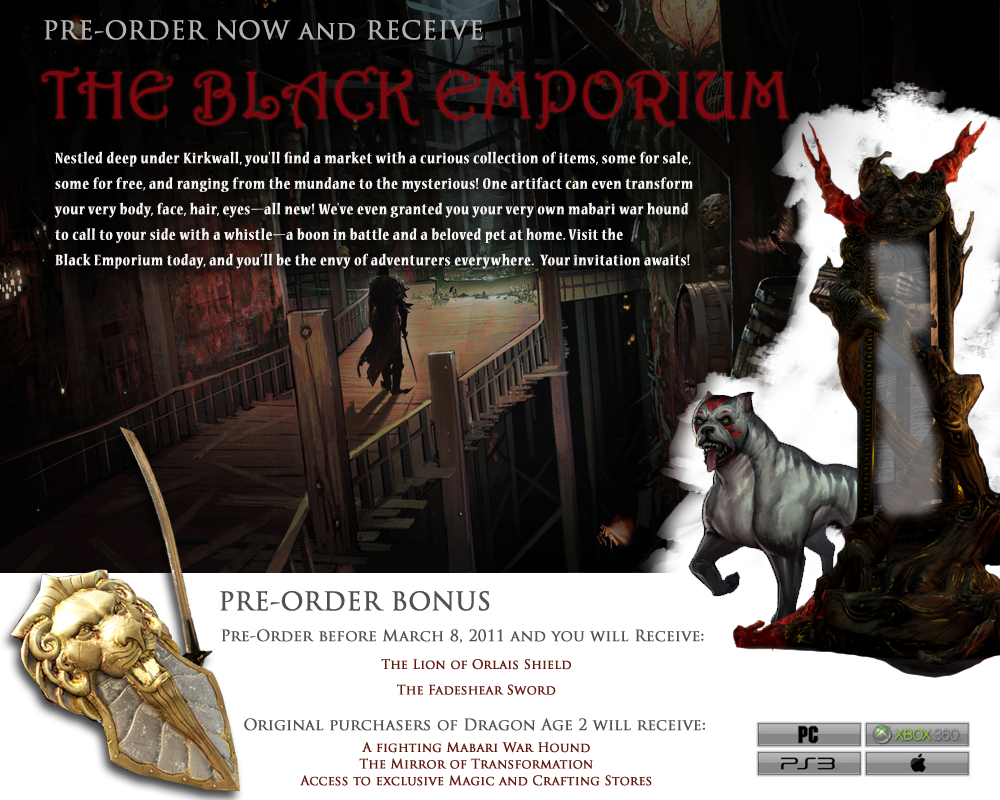 Dragon Age 2: The Black Emporium *UPDATED*
Bioware is releasing Dragon Age II on March 11th , but the only way to get some great "free" stuff is to pre-order the game by January 11th.  Here is what you get.
A download code for a bonus playable character and missions
Downloadable game soundtrack
Exclusive in-game digital armory featuring multiple weapons
Additional downloadable items *UPDATED* – If you pre-ordered before January 11th you gain access to a Mabari Warhound pet (not like a WOW cosmetic pet, this one kills things) as well as the key to the Black Emporium, a shop so diabolical only people crazy enough to pre-order will gain access.  What is inside?  Nobody knows for sure, although there are rumblings of The Mirror of Transformation which can be used to alter your appearance after the game has already begun.
Waaaitt – Hodup, did you say bonus playable character?
I sure did, by simply preordering the game you get access to "The Exiled Prince: Sebastian".  I for one have loved all of Bioware's DLC characters: Shale, Kasumi and Zaeed. And truth be told, I went to the store today and pre-ordered two copies.  One copy for myself, and one for Dragon Age addicted wife Christinabot.
Take a look at Sebastian in action
Do you guys like the marketing strategy of "giving away" free content to people that pre-order? Or do you feel it's an underhanded way of punishing people that don't pre-order? – Thanks to Derek for the heads up.