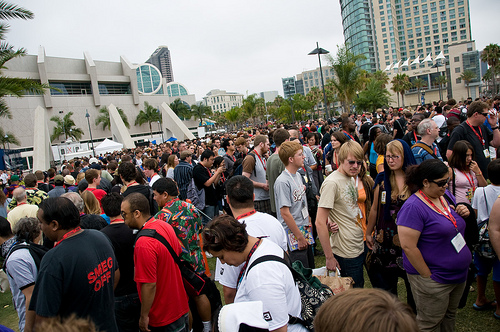 Comic-con tickets: A saga *UPDATED* *UPDATED AGAIN*
First let me explain that I do web development for a living. I see the pain that comic-con is going through and I'm going to try to explain it a little bit. Because once again today, comic-con released some tickets, this time 1000. The process wasn't too bad, instead of going to the registration site (Epic), which was obviously being crushed under the strain of the original attempts to open up the ticket purchasing process, they sent you to a ticketing site. Comic-con apparently went with Ticketleap.com, a pretty well known ticket servicer of the likes of ticketmaster or ticketfly. A service that processes and handles ticketing for many different venues and organizations. Generally these sites are built to withhold the strain of 50,000 Beiber fans trying to buy tickets all at the same time. Traffic comes in bursts and swells and they are meant to handle it.
Well today, if you attempted to buy tickets you had to have the timing of a ninja. I refreshed at 11:00am. Got the link, had the form filled out by 11:01am, clicked submit, it spun…and died. Yep, by 11:02am if you had not gotten through the process you were too late. I figured I was a goner, and then I received a confirmation email saying I had indeed made it in time.
Two minutes. Think about that, in two minutes not only had Comic-con goers single handedly purchased 1000 tickets, they also shut down the ticketleap server, which was spitting up a 502 error (bad gateway). Which basically means the server was not routing requests anymore and had shut down.
The Techy Part
The internet has an attack method called DOS which means denial of service. Basically as many computers as possible make requests (like going to a URL) to a server until it overwhelms it so much that the server shuts down. If you need a visual think of it like this:
Movie Videos & Movie Scenes at MOVIECLIPS.com
Except without all the hot Angelina Jolie action. Everytime a major event goes on sale, that server basically has to outlast a DOS attack, albeit not one with bad intentions, but if 130,000 people all hit a site at relatively the same time, all of them refresh the page until they see it, that is a ton of requests going out to a server. Large sites like Facebook, Amazon, Twitter all have people and means in place to handle this kind of traffic, and I suspected that Ticketleap would, but it appears it may not have, because after 2-4 min of requests, the server is done.
I'm not sure that comic-con is going to come up with a suitable solution here. I'd imagine they need to find the strongest partner possible (ie ticketmaster.com) and cross their fingers that when they decide to go live they may be able to fend off the hundreds of thousands of requests that will all be coming through in the same minute. I personally think comic-con needs to hire a few web-centric people (I'm right here if you need me guys) and work on their web face entirely. Their site is awful, they have no overly useful web apps for the con itself and they obviously aren't handling ticket sales or registration that well either. Hopefully they will get this worked out, the Con is a blast and I highly recommend it, but it is definitely getting more and more packed as the years go on and sooner or later if they don't do some better organization, including lines at the con itself, the shine of all that nerdy awesomeness in one place is going to start to tarnish, and it will turn back into the little con it once was.
Either way, best of luck to anyone still hunting for tickets, I'll let you know if I ever get my confirmation email from Epic saying that we are good to go. San Diego (hopefully) here we come.
*UPDATE*
So I just received my first email from Comic-Con. It seems I did make it through the process. I'm posting this here hopefully to help all those in waiting or wanting to understand the process:
Hi Matt,

Thank you for your Comic-Con International 2011 badge request.

You are not yet registered for Comic-Con 2011. You must follow the steps below to complete your registration.

Step 1: You will receive an e-mail from EPIC registration with a unique log-in registration code and link to their website*. Please add *** to your e-mail contacts or address book so it does not go to your SPAM folder. You will receive one EPIC e-mail for each Comic-Con badge requested, and one unique log-in code per badge requested.

Step 2: Go to the EPIC registration web link provided in their e-mail. You will have only 24 hours to complete your registration from the time you receive your unique log-in code. You will need to enter your name, your log-in code, and the e- mail you used to request badges on TicketLeap. If you enter a different name or incorrect e-mail, your log-in code will not work.

Step 3: Complete your registration and pay for your badge(s) on the EPIC website. You will be able to select an adult, junior, or senior badge category at this time. You may not purchase any additional badges. You will need to log-in with your unique registration code for each badge purchase. Adult 4-day badges without Preview Night are $105, or $52 for juniors/seniors. A $3.00 per badge credit will be deducted at the end of your EPIC transaction as a thank you for participating in this test.

Step 4: After you have completed the registration process and your credit card has been charged, you will receive a bar-coded e-mail confirmation from EPIC registration. This is your ticket to Comic-Con.

*If you do not receive e-mail from EPIC with your unique log-in code within 3 hours of your TicketLeap transaction, please check your SPAM folder first, and then call EPIC registration at 1-800-940-2164.
*UPDATE AGAIN*
OK. I finished up the process. They sent me a follow up email for each badge purchased, you click the link and it takes you to EPIC registration. The process while a bit more dragged out then seemingly needed, is a bit smoother. The real test is going to be whether ticketleap can handle the amount of people coming to the site for the real sale when it goes online. Chances are they had it set to sell 1000 tickets and go offline, but the fact that it took the entire ticketleap site down is a bit disconcerting. But I will say the process after the fact is a lot more calm and a lot less worrisome ( as far as it dying upon entering your credit card number, etc.). So heres hoping it works out for those of you still in the hunt. Keep us updated and let us know how it goes for you when you finally get to buy tickets.