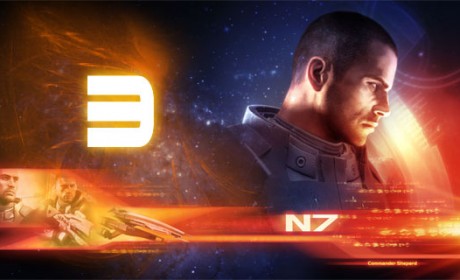 Mass Effect 3: Info leaked on accident.
When you're as big of a Mass Effect fan as we are here at Nerd Appropriate, every minute bit of information is incredibly valuable. Well today folks, we have hit the mother load!
Sources reveal that tomorrow at the VGA's Bioware will finally (offically) announce Mass Effect 3. We all knew it was in the works, but both the plot-line and release window were a total mystery. For a brief amount of time this morning Mass Effect 3 (PC) was available for pre-order along with the following blurb of information.
Earth is burning. Striking from beyond known space, a race of terrifying machines have begun their destruction of the human race. As Commander Shepard, an Alliance Marine, your only hope for saving mankind is to rally the civilizations of the galaxy and launch one final mission to take back the Earth.
So the question of "Where are all those Reapers headed?" at the end of Mass Effect 2 has finally been answered. They're coming here… to Earth. My bet is they want to turn us to goo and assimilate us like the evil robots that they are.
What else do we know about Mass 3? I used my lurking abilities to scare up the following info.  All of these are blurbs of information taken from Christina Norman, lead gameplay designer of Mass Effect.
A few months ago Christina Norman asked the community for help with heavy weapon concepts – I stated that I thought it would be a great idea to have class specific heavy weapons. So if you see class specific heavy weapons in Mass Effect 3… it was my idea.
Later Norman asked the community what some of their favorite weapons were from history and sci-fi.  About 40 of us chimed in with weapon ideas. So if you see a gun in Mass Effect 3 that resembles the fast firing German MG-42, that was my idea.
Nov 18th "This is a weird week I have mostly been doing GUI design. Not what I love, but needs to get done."
Nov 22nd "Had a really awesome team meeting today at BioWare, lots of cool stuff shown for my game."
Dec 3rd "Still crunching for my christmas goal. Latest episode of walking dead is taunting me, unwatched. Brains."
Dec 5th "Worked today. Something we have working on for a long long time really came together today and it was AWESOME!"
So Mass 3 is nowhere near completion if they are still working on the GUI.  But how exciting will it be to see the first footage this weekend?