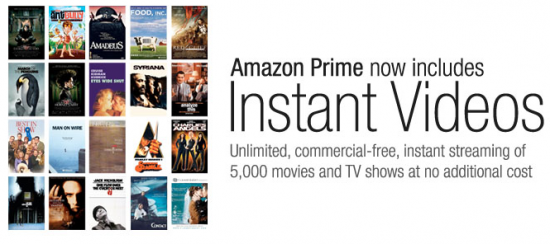 Amazon Prime just got family friendly
I have been an owner of an Amazon Prime account for about 2 years now. I did a lot of my christmas shopping on Amazon a couple of years ago and thought it would be worth while. At $79/year for Prime, you originally got free 2 day shipping and $3.99 overnight. If you buy more than a few things on Amazon a year, I count it as worth it. Recently Amazon has been rolling out features for their Prime account holders. The first was Amazon Prime Instant Watch Video. It was a netflix like streaming service available through Amazon's VOD service, but these were all free. The initial offering was good, not mind blowing, but a great little add on for someone like me who already had Prime and had a Roku.
Amazon today announced the addition of 1000 new movie and television titles. I read through the movie list, nothing amazing, but again great content add ons. Titles like Superman: The Movie, Training Day, JFK, and Kramer vs Kramer jump out at me, but what really caught my eye was the television announcement. If you have kids and have been worried about cutting the ol' cord, the mixture of Netflix and Amazon Prime may be just what you needed. With Netflix counting Nickelodeon titles like Yo Gabba Gabba and Wonder Pets in their roster, and now Amazon adding things like Sesame Street (also on netflix) and Mr. Rogers Neighborhood to theirs, you have hours on end of glorious television that you don't have to feel bad about your kids watching.
We are all about cutting the cord here at Nerd Appropriate and the addition of family friendly content may be the bump you needed to save some of those dollars for their college account. Check out Amazon Prime  at amazon.com. They also have a free, yes free, account for parents they call Amazon Mom. Although I do not believe that the Instant Video is included on the free account.