The infectious Googly Eyes theme song for Kinect Fun Labs

Let this serve as a warning to anyone who hasn't yet played with the Kinect Fun Labs gadget, Googly Eyes. Most of the time we go about our gaming lives more or less ignoring the orchestral undertones or looping electro-beats of interactive experiences. In the case of Googly Eyes, however, I seem to have come down with a musical earworm.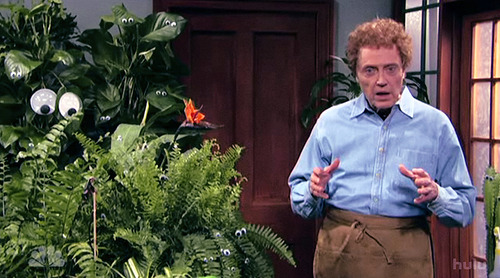 The Googly Eyes gadget itself is pretty straightforward, using your Kinect Sensor, the user scans an object, whose virtual representation is outfitted with… drum roll… Googly Eyes. If you remember your Christopher Walken / SNL history you may already understand the hilarity of this. Once complete you can dance around in front of the Kinect to move the character on screen, record a video, and share it with your friends. And then you must think to yourself, "man, someone must have fallen on a left-handed cigarette to come up with this stuff," but you'd be wrong.
As soon as you launch into the gadget you're hit with a highly catchy song about putting googly eyes on things. This gadget is automatically amazing (presentation is everything). As silly as it sounds, here I am a week + later and I still can't get this song out of my head. My initial fear was that, "oh god, I hope this isn't someone awful like Owl City." I was relieved to find out that this song was written by children's music artist, Caspar Babypants… and why would you care about that? Well, Caspar Babypants is the stage name of Chris Ballew, of the Presidents of the United States of America (P-USA for the those in the know). It all makes sense, Peaches… Lump… Googly Eyes. If you have kids, Caspar Babypants has 3 albums, and I'd bet they're worth a listen. So if you dare, and feast your googlies on this infectious jam.
PS The actual video is pretty rad too.