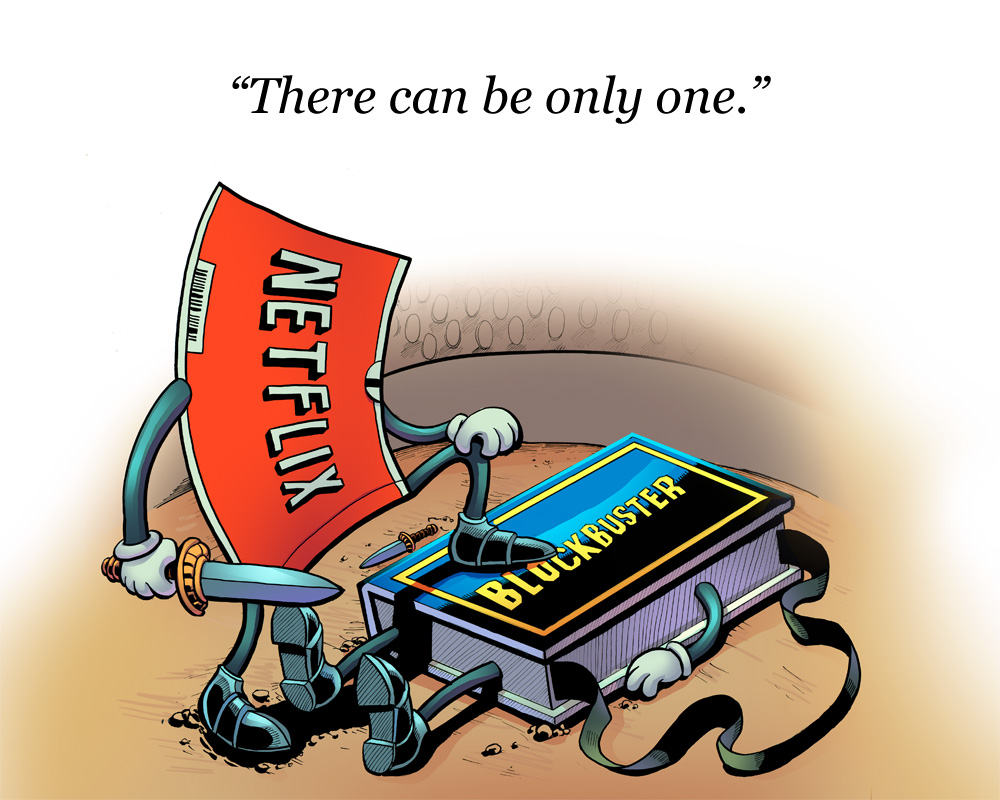 Red Vs. Blue: How Netflix Ended Corporate Tyranny
Blockbuster Video – When I was a kid I spent countless hours within the halls of Blockbuster Video. Back then there was something magical about wandering up and down those isles looking at all the crazy movie boxes and wondering what mysteries were contained within. To clarify, this was before "the internet", before IMDB, and before Rotten Tomatoes. As a customer you were really flying blind with only word of mouth to guide you. It was a strange and mysterious time, a movie roulette of sorts.  Back then a movie rental was still two or three dollars, and the cost of one of those rental VHS cassettes was $80.00 or more. Blockbuster became great at lying and taking money from it's customers.  Just check out this testimony from a former employee.   During the golden age of Blockbuster's rule, if your rental video was scanned into the computer ONE minute late, you were charged for an extra 48 hours of rental time.  From a business perspective it was genius.  Blockbuster was making wads of cash for doing nothing.  The rental video was in their possession, yet they were still charging the customer for the rental.  It was a model that we all accepted because that's just how it worked!  Sure, we all questioned the logic, but we did nothing to challenge it.  My family of course, learned about Blockbuster the hard way.
Rat Boy – Being a total pain in the ass with a hunger for weird movies, I demanded that my family rent a little film called "Rat Boy" (because the back of the box had a the picture of a boy who was also sadly… a rat).  My parents gave in and we took Rat-boy home with us after paying Blockbuster three dollars for the 48 hour rental.  Rat-boy was not the film that I hoped it was, and ended up being a drama about "being different"… not lycanthropy.  After about 48 hours it was time for Rat-boy to go back to Blockbuster.   Not wanting to pay the extra 3 bucks, my father raced to Blockbuster on his motorcycle in an attempt to beat the clock.  Somewhere along the way the unthinkable happened!  The VHS copy of Ratboy flew off my dad's Harley and exploded on the highway.
This will only hurt for a second – Blockbuster informed us that Ratboy would cost about $80.00 to replace, plus a "re-shelving" fee of a few dollars.  Really?  For a VHS cassette?  And on top of the $80.00 we would still have to pay the late fee because by the time my dad scooped up the exploded copy of Ratboy off the highway and returned it, time had run out.  So what happened next? It was pretty simple, we ran away and didn't go back to Blockbuster for a long time.  Our story is NOT unique, Blockbuster made just as much money on late fees as it did on rentals.  In 2005 when they introduced  their "The End of Late Fees" campaign, but it was too little, way too late.  The damage had been done, and the average Blockbuster customer had already been abused in some fashion.
Blue meet Red – It turns out Netflix was created simply to destroy Blockbuster video.  In a story not unlike my own, Netflix founder Reed Hastings was charged a late fee for Apollo 13 after being only a few minutes late.  This pissed Reed off.  Rather than running away (like us) Hastings and his partner Marc Randolph decided to do something about it.  In a bold move they created Netflix, and built a rental model where the consumer could feel comfortable being lazy and watching films at his/her own pace.  We rent films to relax, not to beat the clock.  Hell, I've had a copy of Hellboy: The Golden Army for about six months and I feel not one ounce of guilt about it.  Netflix has single-handedly dismantled the evil empire that was Blockbuster video.  Sure, like any dying empire Blockbuster clings to the false hope of a Renaissance, but face it blue… we're fucking done with you.  From an outsider's perspective it at least appears that Netflix is based on convenience, consistency, technology, and above all else… honesty.   You don't have to screw your customer to make a buck.