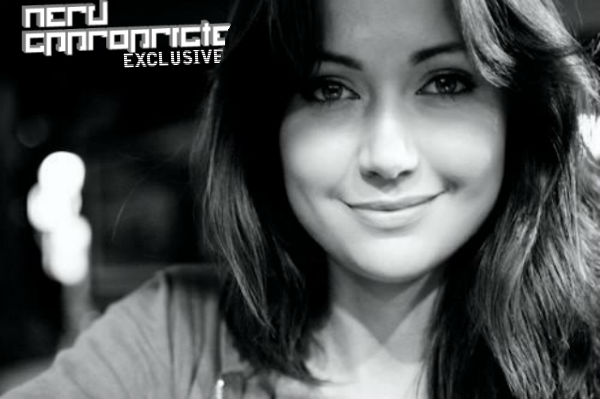 Jessica Chobot: The Nerd Appropriate Interview
Jessica Chobot is one of us; a nerd who loves games, movies, art, and pop culture.  If you've ever logged into X-box Live you've probably seen Jessica rattle off the latest in video game tips and news as the hostess of IGN's Strategize.  If you don't own an X-box (shame on you) you've probably seen her spreads for Sony, Maxim, or FHM.  Chobot is one of the most widely recognized female game journalists in the business, and good news, there is even more Chobot on the way.  Jessica will be starring in the upcoming series Proving Ground on G4TV beginning on June 14th.  Enjoy this very honest, very candid interview with the incredibly cool Jessica Chobot.
NA-Ash: I should start off by saying, I've run into you at a handful of conventions and you've always been incredibly friendly, so thanks! How goes it?
Chobot: Awww! Thank you for the compliment! It's going really well! I've relocated back to the LA sunshine, getting ready to debut G4's Proving Ground to the masses and prepping for E3 2011. So, things are getting a bit hectic but super exciting.
NA-Ash:  I really wish I was going to E3 this year, but things didn't work out.  Let's jump right into Proving Ground shall we? When Nerd Appropriate saw that you were making the move to L.A. we instantly knew you'd be working on something with G4. How were you approached to do Proving Ground?
Chobot: While I appreciate your powers of deduction, my move to LA was actually more personal that professional. The original plan was for me to fly back and forth between LA and SF to shoot Proving Ground. Then some things in my life changed up and fate kinda' just worked it out that I would be in LA permanently right at the same time that Proving ground started production.  As for how I was approached to do it, I did what everyone else had to: audition. That's a pretty funny story actually. I had gotten hit by a car (I was on a scooter) in San Fran just a few days before and almost passed on the audition because I was in pain, tired and just looked like crap. Then I thought about it a bit and figured: nothing ventured, nothing gained. The whole audition was me trying to pressure Ryan to get into some supped up go-kart while he argued with me about it and was generally against it. At one point, I got the brilliant idea to call Ryan a 'whiney-vaginey' and hand him a tampon (don't worry – it was a fresh one). The audition wrapped, I said, 'Thanks,' and then called my agent. The first thing he asked was, "How did it go?" and I said, "Well, either I'm never going to be asked to G4 ever again and I just ruined my career – OR – I knocked it out of the park."  Lucky for me, it was the latter.

NA-Ash:  I'm totally curious; after that crash did you ever ride again? (I crashed my Stella scooter about five years ago and haven't really had the gumption to ride again).
Chobot: No. The way I look at it is: It's not a matter of IF you're going to be killed/seriously injured on a bike, it's a matter of WHEN. By all accounts, I should have been killed. The emergency room staff said to me numerous times, "We have never seen anyone walk away from an accident like this. You are incredibly lucky." So, not only was the accident a close enough call for me but now that I have someone in my life that I want to have a future with, I have to take their feelings into account as well. It would be astonishingly selfish of me to willingly place myself in harm's way when there is someone else to consider.
NA-Ash: That's an incredibly honest answer, and also sort of the reason I stopped riding as well.  Okay, back to Proving Ground because we want to know more.  For those that haven't heard about the show, can you explain how it's different from other science/ stunt shows?
Chobot: The power behind G4's Proving Ground is its dedication to pop culture. I, for one, am intensely interested in the more nerdy side of things, from classic 80s teen movies to videogames to TV shows while Ryan, believe it or not, has an amazing curiosity and intelligence for the more technical/engineering side of things. We also got along fantastically, so the combination of us as hosts worked out well and really created some hilarious moments.  I'm also a big fan of how Proving Ground doesn't focus on just the two of us. The entire crew that had been hired on to shoot the project was forced to do some of the trials and tests. It made for an incredibly fun and low-key atmosphere, which a show like this should have. I have to say, for this being my first go at major television, I couldn't have asked to work with a better team of people. I count every single one of them as a quality friend.
NA-Ash: Be honest, is working with Ryan Dunn from Jackass a bit scary? I mean, aren't you afraid that you're going to get a pound of flour thrown in your face, or that perhaps you'll have to drink a big glass of lemonade that isn't really lemonade at all?
Chobot: Working with Ryan Dunn isn't scary. Working with Ryan Dunn and a crew that had all already worked together on 'Viva La Bam' is scary! Talk about being a huge Noob! It started getting to the point where my body trained itself to never stand with my back turned to someone. Or to walk into a room and scan it with my eyes to see if there were potential "hot spots" for pranks. No matter how hard I tried though, they all still got me. The most infuriating one was during lunch when someone asked me to nab them a lemonade. Unbeknownst to me, they had hooked up the cooler with electrical fencing wire. So, when I grabbed the pour tab, I got shocked pretty hard. Oh yeah, even better? They had a hidden GoPro that filmed the whole thing.
NA-Ash: WOW.. I really hope that footage makes the show… haha.  Okay, you've been to every gaming convention imaginable and have probably gotten to see some pretty amazing things. What convention moment stands out for you above all the rest? (Please don't say "Watching Blair get his chest shaved at the X-play panel")
Chobot: Hahaha! I was spared seeing Blair getting shaved, so that one is void no matter what (Thank God). Hmmm…best moment ever….honestly, I'd have to say the moment the doors opened during my first E3. It was before I had ever gotten into the industry. I was working for GameStop at the time, forged some documents, made a pilgrimage to California and snuck into E3. That felt FANTASTIC.
NA-Ash:  Very jealous of that, I bet that was amazing!  We're happy to say that we follow your Twitter feed and love how passionate you are about gaming and pop culture. What titles are you the most excited to play this year?
Chobot: Ones I'm looking for in the future are: Deus Ex: Human Revolution, ICO & Shadow of the Colossus HD collection (let's hope they keep up their 2011 release date), The Witcher 2: Assassins of Kings (it's out now but I haven't had the chance to pick it up yet), Legend of Zelda: Skyward Sword, The Elder Scrolls V: Skyrim, and Uncharted 3: Drake's Deception.
NA-Ash: Gender in the world of gaming has been a hot topic here at the site. As a high profile "female gamer", do you feel as though people sometimes question your legitimacy?
Chobot: Overall, I think the question of my legitimacy has died down. I still see some rather disparaging comments now and again but I figure that kind of comes with the territory. That isn't to say I find it appropriate but I DO expect it. Videogames are still a bit of a 'guy's hobby' and no one enjoys seeing their special club infiltrated by outsiders. My response to that is: I'm not going anywhere anytime soon – So get over it.

NA-Ash: You wrote a feature length script back in 2007 called "Soul Code". Can you tell us a little bit about it? (Does it involve Jake Gyllenhaal in black-face attempting solve the mystery of a train bombing? If so, I'm totally into it..)
Chobot: All I can say about that is that some changes have been made to it and it's not dead in the water by any means.
NA-Ash: Favorites time! What is your favorite: bad horror film, breakfast cereal, and Dragon Age character…. GO!

Chobot:
* Fave bad horror film: I don't have one. I hate horror films
* Fave breakfast cereal: haha! I don't have one. I don't eat breakfast (unless coffee counts, in which case: Hazelnut coffee with Mounds Bar flavored creamer).
* Fave Dragon Age character: Alistair.
NA-Ash: Ladies do love the Alistair… haha.  As always, I must ask the Nerd Appropriate signature question. What nerdy hobby and/or habit do you have that very few people know about?
Chobot: YES! I am a HUGE fan of Korean dramas. I watch them online via Crunchyroll.com. My fave by far is a toss-up between Coffee Prince and Winter Sonata. My Lovely Sam-Soon is headed up my rank of faves as well.
NA-Ash: See I never would have guessed that.  Jessica, on behalf of myself and the rest of us at NerdAppropriate.com we thank you so much for your time. We'll be tuning in to Proving Ground for sure! Any parting words?
Chobot: That I just hope you all watch and enjoy the show. Not only does this one have a special place in my heart (because it's my first) but because of how hard I know everyone involved worked on it and how much fun we all had. I think we did everyone proud.
NA-Ash:  I'm sure the show will be a blast!  Have fun at E3, and I'm sure we'll run into you again in the future.
Follow Jessica Chobot on Twitter
Follow NerdAppropriate on Twitter

Check out our huge collection of interviews HERE, and learn something about your favorite nerds.