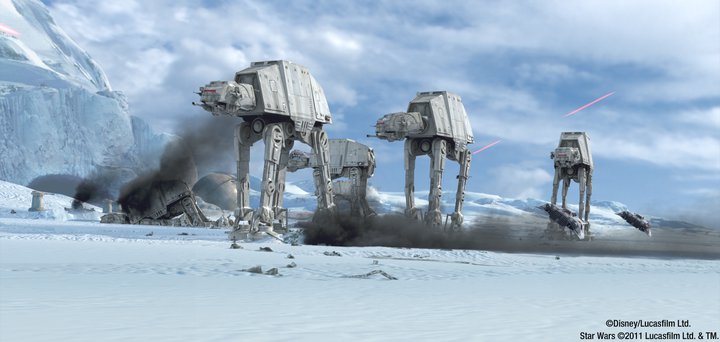 Star Wars: Are you ready for Disney's new Star Tours?
A few weeks ago we talked to Ashley Eckstein who plays the awesome Ahsoka Tanno on Star Wars: The Clone Wars. By the end of the interview we were incredibly excited for Disney's all new Star Tours. While details Star Tours are still scant, here is what we do know. The new ride will be using James Cameron's 3D technology (yes still with glasses), you will tour at least three different Star Wars locations: Bespin, Alderon, and Endor. Promotional art shows other well known locations such as Hoth and Coruscant.

If you live in Florida there are also some promotional events coming very soon to get you ready for hyperspace travel.
Star Tours®–The Adventures Continue, launches May 20th at Disney's Hollywood Studios® but this is your chance to learn about Star Tours… see some of our exciting destinations and meet some out-of-this galaxy characters like R2-D2, C-3PO – plus Jedi Mickey and Leia Minnie!
SAT. APRIL 16 – AVENTURA MALL – MIAMI (11A – 7P)
SAT. APRIL 30 – ORANGE PARK MALL – JACKSONVILLE (10A – 6P)
SAT. MAY 7 – WESTFIELD CITRUS PARK MALL – TAMPA (10A – 6P)
SAT. MAY 14 – THE FLORIDA MALL – ORLANDO (10A – 6P)