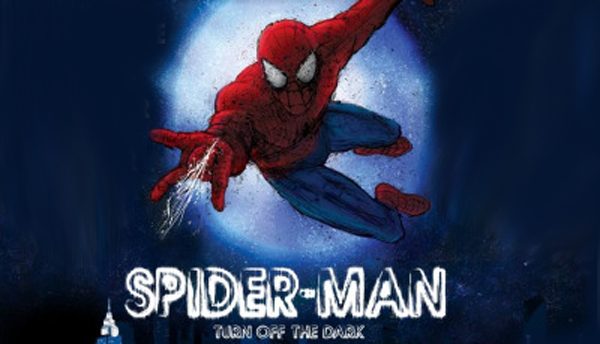 As Mary Jane said, "Go Get 'Em Tiger!"
Aerial stunts, extreme stage combat, moving sets, brilliant costumes, and $65,000,000 (yep, that's sixty-five MILLION dollars) later and you get a musical production of the beloved comic hero, Spiderman. The most expensive musical ever to be produced on Broadway. Musical Schmucial, is it Nerd Appropriate worthy? Well let's consider the facts.
It's co-written by and directed by Julie Taymor. Ok, so? Well, she was the first woman ever to win the Tony Award for Direction in 1998 for her production of The Lion King. Still, so? She took on the music of the Beatles, and earned a Golden Globe® nomination for Best Motion Picture – Musical or Comedy, in Across the Universe. That's pretty cool.
The counter part of the writing team is Glen Berger who has written over 200 episodes for some of my favorite PBS children's television shows including "Arthur," "Curious George" and "Fetch! With Ruff Ruffman." He has won two Emmys with 12 nominations.
Co-book writer Glen Berger shares his love and responsibility in writing to preserve the character of Spiderman for both fans and the comic creators.
While I have to admit I'm not a huge U2 fan, Bono and The Edge writing all the music and lyrics (show-tunes and all) for a musical seems pretty awesome considering they are truly legends of the rock and roll department – fan or not. Expect some catchy U2 rock songs and some rather unusual show-tunes and edgy dance numbers from this Hall of Fame rock duo.
ACTION! DANGER! INJURIES?
Oh my! Yes, this production has also been recorded as the longest preview period of any Broadway production in history. Why? Because people keep getting hurt! Falling from nearly thirty feet in the air above the audience, straight into a basement under the main stage might do someone some damage – and oh, I don't know, keep them from being able to perform? Actors and stunt people suspended in the air due to equipment failure for more than three hours, minor concussions, broken bones, technical difficulties and FOUR major injuries, well hot damn! Count me in!
1) Natalie Mendoza (Arachne) suffered a concussion after being hit in the head offstage by a rope with production gear tied to it.
2) Kevin Aubin (a dancer and one of Spidey's doubles) broke both of his wrists after smashing into the side of the stage during rehearsals for a flying sequence when he was CATAPULTED like a sling shot from the back of the stage to the front.
3) Another actor broke a bone in his foot during a flying combat scene.
4) Lead stunt actor, Christopher Tierney (Spiderman), after plummeting more than 20 feet into a basement beneath the stage, broke his ribs and suffered from internal bleeding, among other injuries.
If the injuries aren't enough doom and gloom for you maybe we take a closer look at how the signing of contracts panned out. The show's original producer had a seizure and died just after arriving at The Edge's apartment on the initial signing of the papers! This play has had disaster written all over it from the very beginning! I LOVE IT! (not at the expense of some one's life of course, but just the sheer irony of doom from the very beginning- take a HINT right?)
Oh! Did I mention giant LED screens that project comic book images of the villains!? AKA GIANT HIGH TECH COMIC BOOKS!?! and, duh, it's SPIDER-MAN!?! I think we can safely say this musical is Nerd Appropriate.
Segment from 60 Minutes

One thing is for sure, as long as the production stays in production and if I can get up to New York in time, I will most certainly being seeing Spider-Man:Turn Off the Dark. Bad reviews and all, I am ready for some Spidey action! As they say, a bad dress rehearsal (or preview shows) foretells a great opening night. So break a leg (or two wrists, or a foot)!!!
Happy landings!
---
The new preview show opened this Monday, February 7, 2011. Tickets available now on Ticketmaster.com from $67.50 – $135.00. The show is still scheduled for its Broadway premiere on March 15th.
Seating Information
Orchestra: Sitting close is ideal for seeing details and puts you within the action.
FLYING CIRCLE: For a show of this scale, mid-level seats are perfect for taking in the big picture.
BALCONY: With tickets from $67.50, these seats put you face to face with the aerial action.
Conan O'Brien