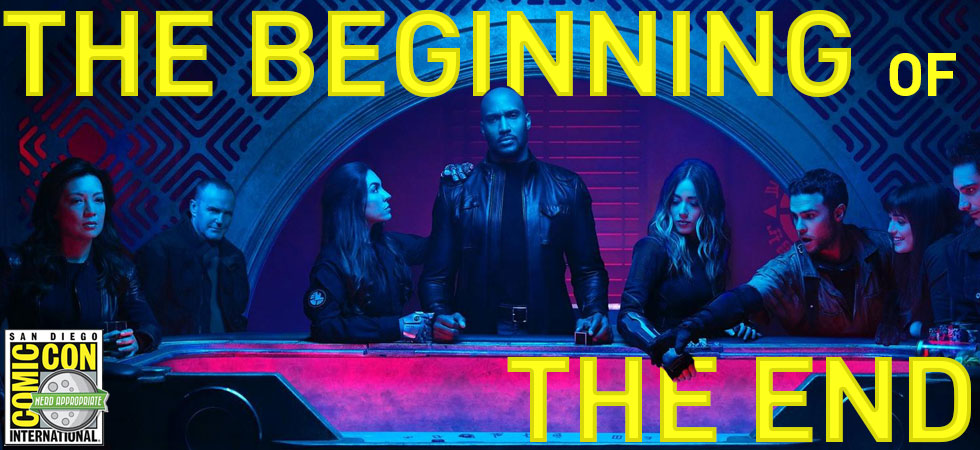 The Cast of Marvel's Agents of S.H.I.E.L.D. talks The Beginning of the End
With the Marvel's Agents of S.H.I.E.L.D. season Six finale right around the corner we're wildly curious about what the future holds for our favorite agents. We had a chance to chat with Clark Gregg and the rest of the cast a few weeks back at San Diego Comic-Con about where the series will go during its seventh, and finale, season as-well-as what it feels like to be filming the show's final episodes. Just what does the future hold for team S.H.I.E.L.D.?
How do you guys feel about the last season? You're currently filming the last episode.
Clark Gregg: We're filming right now. We go back next week (after SDCC) but we already started. Next week we're shooting the last seven days.
What can you tell us about the future and the ending?
Clark Gregg: I can say a little. We kind did our goodbye at the end of Season five. We hadn't heard if it was going to be picked up and the show was called "The End". It was very moving and we did that goodbye and then we came back to do two more 13 episode seasons which we were thrilled to do. I heard that they wanted to kill off Coulson and have this other evil guy show up and it was very exciting. So, we will have already done one kind of goodbye. A lot that's going to happen in the final three episodes of season six is pretty mind blowing and explosive. It really rips the rug out from the first six seasons out from under people.  It's very interesting to be putting on these costumes for the last time, especially for me since I've been doing it for eleven years. What's interesting about it is that in life you don't often get to this place where you say "this is good, I'm going to be this for the rest of my life", it doesn't happen. Season seven is a big departure and the ending will be reflective of that.
So Coulson is alive again?
Clark Gregg: That's right. Sarge is alive and he looks a hell of a lot like Phil Coulson. It turns out he's got some powers. You should have figured that out when he was able to stand for more than a round with Henry Simmons. I think in upcoming episodes a lot will be revealed about what Sarge has going on underneath that Coulson skin and that'll be a bit shocking to the audience and a bit shocking to Sarge as well.
How hard has it been for Melinda May to see Coulson Again?
Ming-Na Wen: May had just grieved and finally let Phil have his resting place. They had their moment in Tahiti.
Clark Gregg: There are people who think YOU really took him out in Tahiti.. That you just loved him to death. That he was actually recovering and he was on his way back but it turns out the Cavalry has powers we don't even know about.
Are you satisfied with your character's arcs throughout the seasons?
Ming-Na Wen: Yeah, for the most part it has been incredible. I don't know how our writers come up with really fun and challenging things for us to do every-single-season.
Clark Gregg: There was a lot of blood on the Helicarrier that day (the first time Coulson died), so to come back and do 136 of television and have a team and a family with an incredible guest cast from Bill Paxton, whom we miss and love, to Ruth Negga and Kyle MacLachlan. We got really lucky, I could just list 70 people who we've loved playing with. We have and incredible crew and an incredible team of writers, and a lot of people say that, but we really do. There's a lot of complicated feelings. They're tearing down the places where we shoot. It's very much like the Framework at the end of season-4 where buildings are disappearing and people go on to other jobs. Suddenly the sound guy, the wonderful "Tom Sound", is gone and people are disappearing around us.
It's like Infinity War… people are disappearing. It's weird when they actually turn to the black particles. – Clark Gregg
You're stranded on a desert island and small box washes up on shore. What is inside that box?
Chloe Bennet: It's like a real thing?
Jeff Ward: It's like a wish box?
Chloe Bennet: I would have the key to a boat that's there.. To leave.
Jeff Ward: It sounds to me like you just want the key.
Chloe Bennet: Yeah, it's a key to the boat that's somewhere else and a note that says "hey, there's a boat over there and here's a map!"
Jeff Ward: Mine would be instructions to a raft… I wouldn't be able to build it anyways.
Chloe Bennet: You'd need very very detailed IKEA instructions.
How do you two feel about the show ending after next season?
Chloe Bennet: It's seven years of my life, seven years as an adult, seven years of the show; seven years of growing with the fans, cast, crew and creators of the show. It's a huge huge thing and it's very emotional.
Jeff Ward: The writers got to end the show properly and for the last two seasons they were guiding it in toward (an ending).
Chloe Bennet: It's a special thing to be able to choose to end your show.
Can you talk a bit about the evolution of Skye to Daisy?
Chloe Bennet: She kind of became the antithesis of what she was at the beginning of the show. I auditioned to play a hacker in a van and they were like "just kidding, you're going to be a super-hero and do these stunts!" I don't know if I would have auditioned for that, but here I am.
Jeff Ward: A lot of actors would not have been able to handle that transition, but I think for Chloe to shoulder so much of the show physically, with the crazy amount of stunts that she does. I give a lot of credit to Chloe and the reason why the show was successful was because of her, I really do think that's true. I give her a lot of credit for that.
Who is your dream character from the MCU that you'd like to see on Season Seven?
Chloe Bennet: I just like Tom Holland.. No Zendaya.
Jeff Ward: Oh you'd want MJ in there? That'd be cool.
Chloe Bennet: No, Zendaya.
Jeff Ward: I would have to go Peter Parker, because I love Peter Parker.
Chloe Bennet: Peter and Deke would get NOTHING done.
Jeff Ward: They'd be best friends.
What is different between seasons six and seven?
Natalia Cordova-Buckley: Season Seven is VERY different. There is a lot of traveling in seven. I'm not going to say what kind of traveling, but we do a lot of traveling.
Henry Simmons: There are a lot of unexpected occurrences that happen in season seven.
Natalia Cordova-Buckley: Everything kind of comes full circle. It's very hard to explain, because I can't tell you guys anything. A lot from the past of S.H.I.E.L.D. comes into play.
Henry Simmons: I can say that you'll meet Mac's parents.
Was Mac Ready to be a leader?
Henry Simmons: Mac was born a leader. I don't think it's something he has to work at. It's why the rest of the team voted him in. There may have been some growing pains in season six, but his strength as a leader comes to fruition during season seven.
Natalia Cordova-Buckley: Mac is probably the only character on the team of S.H.I.E.L.D. that never acts with ego. I would love to say that about my character, but he never acts on his own behalf. I think that's what makes him the best leader S.H.I.E.L.D. has had.
Are 'Yo-Yo's gauntlets itchy?
Natalia Cordova-Buckley: They're plastic so they're more sweaty than itchy. They're hard to put on and hard to take off. There was a lot of meditating during season five and six for me.
Do you think Mac and 'Yo-Yo' are a good place in their relationship?
Henry Simmons: Absolutely, I would say from Mac's perspective in season six they separated because Mac felt like he couldn't do his job properly while worrying about the safety of Yo-Yo. The old adage is "You don't know what you've got until it's gone"..
Natalia Cordova-Buckley: And once you see her with another guy… It was hard for us to even understand it at first (as to why they split up the characters). When they told that they were going to break us up, we had to make sense of it.
Henry Simmons: Personally, I'm still like "why?"
Natalia Cordova Buckley: They had the most mature, grounded relationship, you know? It was an interesting challenge.
Henry Simmons: But it has made their relationship stronger
The two-hour Season Six finale of Marvel's Agents of S.H.I.E.L.D. airs this Friday (08/02) on ABC with the seventh and finale season airing sometime next year.