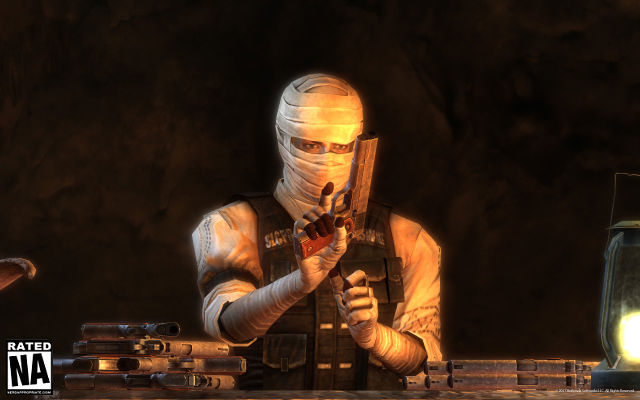 Fallout New Vegas DLC – Who is that Burned Man?
Bethesda dropped some info into our laps this afternoon that we're really excited to share with you all. Honest Hearts promises to tell the story of tribal war brewing in Utah's Zion National park. One character I was totally convinced was going to show up at the end of New Vegas was Caesar's right hand man, Joshua Ghaham, AKA "The Burned Man". We'll I'm happy to say that this mysterious character makes his violent return in Honest Hearts, where your decisions will determine the fate of Zion. The Burned Man was an almost mythical character in the New Vegas universe, and I can't wait to see him return for some divine retribution.
After Graham led Caesar's troops to a humiliating defeat in the First Battle of Hoover Dam, Caesar ordered Graham's execution by being coated in pitch, lit on fire, and tossed into the Grand Canyon.- Fallout WIKI
Honest Hearts will be available via Xbox LIVE and Steam on Tuesday, May 17th and on the earliest date possible via PlayStationNetwork.