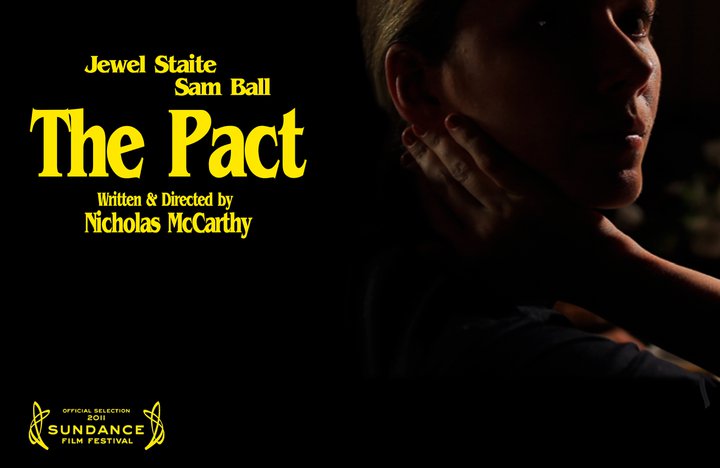 The Pact: An Interview with Nicholas McCarthy
I love independent film.  A long time ago, in the time of dragons, I used to want to make movies myself.  So when I see something special, I feel like it's my job as a film nerd to plug the hell out of it.  I'm elated excited to bring you an interview with Mr. Nicholas McCarthy who just recently returned from Sundance 2011 in support of his moody thriller "The Pact". Growing up on horror films it takes a lot to make the hair on my arms stand up and having recently watched The Pact, I can say with total sincerity that Mr. McCarthy has the directing chops to scare the crap out of you.
NA-Ash: Nicholas, first off I must say, excellent work! Being a film nerd as well as a horror fan, I think you really nailed this one.
Nicholas McCarthy : I like to think of myself as both a film nerd and a horror fan, so thank you.
NA-Ash: Conceptually, where did you get the idea for The Pact?
Nicholas McCarthy :I'd been thinking about ghost stories, and why they seem to have such power. And there was a ghost story script I had been playing with on and off for a few years that I never could get right. I'd made a few shorts and played them at festivals, and last summer I found myself itching to go through the process of making a film again — writing and shooting something, finding an audience. That ghost story idea came back to me, and I wrote the short script script very quickly. We were shooting six weeks later.
NA-Ash: How long did it take you to shoot The Pact, and what sort of cameras did you shoot it on? (It looks beautiful)
Nicholas McCarthy :We shot THE PACT in two days. Bridger Nielson, my DP, used the Canon 7D. The 7D is an inexpensive SLR camera that shoots HD video. It's a fairly common tool now, but Bridger had his camera modified internally so he could properly shoot using motion picture lenses, which are a crucial component to the look of the movie. Bridger is a genius, and very easy to work with.
NA-Ash: We're huge fans of Jewel Staite. How was she approached for the role of Anna?
Nicholas McCarthy : I actually didn't know Jewel or her work before we made the film. I was looking for an actress for the part and a friend of mine is friends with her and thought she might be good and sent her the script. When I went to look her up on line it took me a long time to actually find any video of her acting — when you search for her on youtube the first ten pages are all fan videos from sci-fi conventions where she was doing Q&As! When I finally saw her work I realized of course how good she was. Now I'm a huge fan and have been catching up with all her stuff, she's amazing.
NA-Ash: How was your experience at Sundance 2011? The audience there can be pretty brutal. How do you feel the film was received?
Nicholas McCarthy : I think it's often hard to read how well a short film is being received, unless you've made a comedy. After the first screening, I felt good, but it was only when people started to come up to me to tell me my movie frightened them that I realized it was working. One guy asked me to tell him what happened at the end because he had his eyes shut! It was pretty amazing. The feature I was screening before, THE OREGONIAN, is an absolutely insane experimental horror movie that was in complete contrast to my short, but they complimented each other in an interesting way.
NA-Ash: No offense to Joss Whedon, but in my opinion you squeezed the best performance out of Jewel Staite that I've ever seen. Any chance you two will work together again in the future? Perhaps on a feature?
Nicholas McCarthy : I have two goals in life: to direct a feature, and to direct Jewel Staite again. I hope these two can mix.
NA-Ash: Mixing dramatic tragedy with implied supernatural horror is like mixing water and oil. How did you get it to work so well?
Nicholas McCarthy : I think in some ways the reason the movie works for some people is that it's a slow left turn — you don't really see where it's going. We begin in this sort of naturalistic, character thing, and then the movie takes a walk down into horror movie territory. The idea for me came from thinking about how people tell ghost stories — they set up these pieces of not-so-fantastic events — a door opening, a noise in a house, feeling a cold draft — but in the telling you become convinced there is a thread between everything, and by the end, you're terrified. That's what I was trying to do, plant these seeds in the first half and then link them into something uncanny in the second. So in that way the movie starts as something the audience identifies as "drama" but then moves into "horror" before they really are prepared for it.
NA-Ash: When did you realize that you wanted to make movies? What advice do you have for the thousands of kids in their 20s who are currently in film school?
Nicholas McCarthy : I knew I wanted to make movies as a kid and began making them at 10 years old, on Super 8mm. I always felt lucky that I learned on film, where you have to craft each shot since its so difficult to get an image on it and you have so little. That's what it always comes back to for me and that's what I would say to anyone wanting to make movies — treat each and every shot with care since the images tell your story.
NA- Ash: What is next for you? And where can our readers eventually find "The Pact?"
Nicholas McCarthy : THE PACT next plays in Dallas at the Dallas International Film Festival on April 1st and 2nd, and hopefully we'll continue to show at a bunch of other festivals this year. People can go to the Facebook page for updates as to where they can find it: HERE
Nicholas McCarthy : And… THE PACT will likely be a feature soon if all the stars align. Stand by.
NA- Ash: On behalf of myself and the rest of NerdAppropriate.com, we applaud your hard work and your great film. Any final words?
Nicholas McCarthy : I applaud your great site!  My final words are: kids, stay in school.
___________________________________
If you're planning on attending the Dallas International Film Festival, you can see The Pact there next week!
Also, you can go to their Facebook page for updates as to where they can find it: HERE
Oh yeah, we interviewed Jewel Staite this week and talked about The Pact as well.  Read it HERE