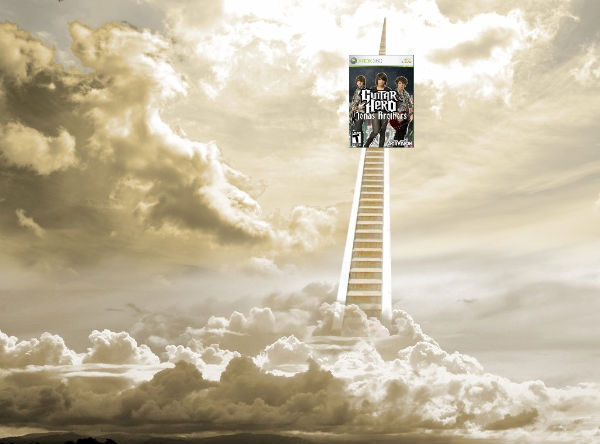 The death knell of the music game: Guitar Hero cancelled.
Much to the dismay of rhythm game fans everywhere, Activision has gone and cancelled Guitar Hero. We're not talking a single game, we're talking the entire damn franchise. Guitar hero, is walking up that long and lonely stairway to heaven… So where did Activision go wrong?
1) The lack of customization – Borrowing character customization from Rock Band isn't going to cut it.  People loved being able to design their own rock avatars and play stadiums all over the world. This was a feature that was added to Guitar Hero a bit late, so people left the game for another band.
2) Less great music – Harmonix and Rock Band have this market cornered.  Sadly, the Rock Band franchise is in trouble as well.
3) Over-saturation of  crap – a few years ago the music game was all the rage.  Everyone rushed out and spent hundreds of dollars on fake guitars and lego drums.  Today, the majority of people's equipment goes unused while collecting a thick layer of delicious dust. I finally reached my point of saturation after owning 4 guitars, 2 mics, and a drum set. I don't want any more crap…
4) No fun alone – I may be alone in this belief, but these game are infinitely more fun with a group of friends than they are by yourself.  So much so, that it's hard to go back to solo play, after you've played with 4 or 5 people.
5) Over-saturation of the genre – In five years Guitar Hero has had close to 20 versions including DJ-Hero and mobile games.  That is absurd.  Imagine if another AAA title had this many versions.  We'd be sick of it no matter what it was. (Except maybe Mass Effect)
So there you have it.. here is the actual press release from Activision.
"due to continued declines in the music genre, the company will disband Activision Publishing's Guitar Hero business unit and discontinue development on its Guitar Hero game for 2011. The company also will stop development on True Crime: Hong Kong. These decisions are based on the desire to focus on the greatest opportunities that the company currently has to create the world's best interactive entertainment experiences."