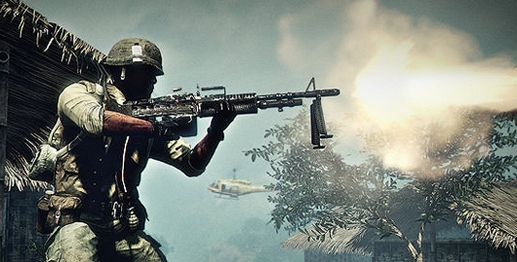 "Now we have a problem in making our power credible, and Vietnam is the place."
Tomorrow marks a very special day for us here at Nerd Appropriate.  A day when us nerds march waste deep through the swamps of 'Nam to rid the world of communists!   At some point tomorrow both PSN and XBL will Make Battlefield Bad Company 2: Vietnam available for download.  Why are we excited?  Well a few of us thought that Bad Company 2 with its updated Frostbite engine was actually a better game than CODBLOPS.  We always like rooting for the underdog.
KEY FEATURES
5 Multiplayer Maps.

Phu Bai Valley, Hill 137, Vantage Point, Cao Son Temple, and Operation Hastings. All game modes from Battlefield: Bad Company 2 (Conquest, Rush, Squad Deathmatch, and Squad Rush) are playable on all 5 maps.

15 Vietnam-era Weapons.

Everything is unlocked from the get go (this is also true for the launch version). One of our biggest new additions is the flame-thrower (see below). We have also made sure to give the weapons a rusty and tarnished look and feel..

60's Soundtrack.

2 hours of time-typical soundtrack on the radios in the American vehicles. Fly to the sound of Ride of the Valkyries, Fortunate Son, and more.

6 Vietnam War Vehicles.

Skim the treetops in the iconic American Huey helicopter. Drive the sturdy Russian T54 tank and the nimble US PBR "Pibber" patrol boat, plus three more vehicles immortalized in the Vietnam War.

New Voiceovers.

All-new voiceovers for both American and Vietnamese forces, based on authentic communication from the Vietnam War.

New Trophies/Achievements.

Collect 10 new achievements/trophies (see list below). Earn new weapon proficiency stars specific to your skills with the weapons in this expansion.