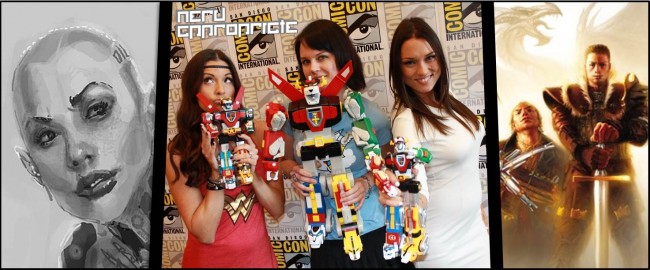 On this special episode Ash and Scott take you through our interviews from San Diego Comic Con 2012. Ash meets up with David Gaider, the lead writer of BioWare's Dragon Age, during preview night. Next, we talk to the busy ladies form Team Unicorn about Voltron and toy collecting. Finally, a fun chat with actress Courtenay Taylor (Jack from Mass Effect) at the BioWare base about voice acting… and Floaty Pens? We also bring you some audio from the Firefly 10th anniversary panel and press conference. Shiny.
Audio clip: Adobe Flash Player (version 9 or above) is required to play this audio clip. Download the latest version here. You also need to have JavaScript enabled in your browser.
Posted in Rated NA on Wednesday May 22, 2013. Read More About Ada Wong, aXL99, comic con, Courtenay Taylor, Daivd Gaider, Dark Horse, Dragon Age, Floaty Pens, Interview, Jack, Mass Effect, Preview Night, Resident Evil, SDCC, Shale, Team Unicorn, The Silent Grove, toys, Voltron.
Scott is an editor on Nerd Appropriate. Check out the other 243 articles by Scott on our site.