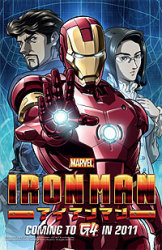 Just got a press release from G4 regarding their new line-up of Marvel Anime coming this July. Marvel has been putting out some high quality animation in recent years and I hope these follow suit. The Iron Man franchise lends itself perfectly to a Anime-esque style animation. Here is what they sent us.
Posted in Comics, Television on Thursday June 23, 2011. Read More About Anime, Iron Man Anime, Marvel, Marvel Anime on G4, Marvel Comics Anime, Wolverine Anime.
Ash is an editor on Nerd Appropriate. Check out the other 646 articles by Ash on our site.