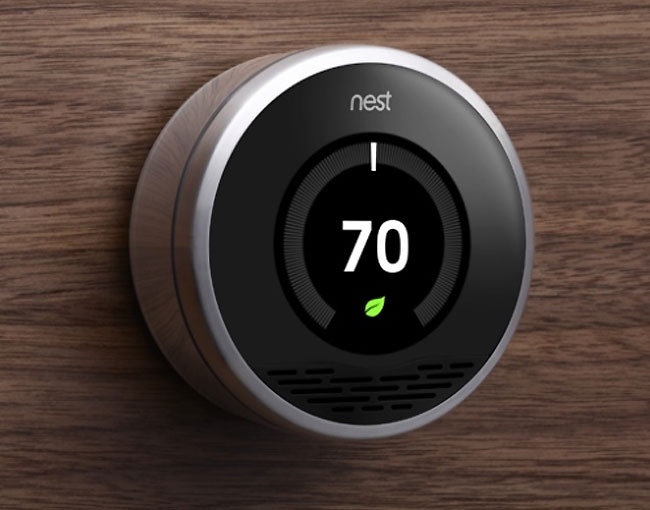 Nest – Nerd Appropriate in the house!
Have you ever been sitting on your couch and wished it was a few degrees warmer? Ever left for a long weekend and forgot to change your thermostat so that your A/C didn't run the whole time raising your power bill? Really don't care enough about you thermostat to want to mess with it? Well then you're in luck! The Nest Thermostat may be just what you are looking for.
The 'Nest' is a new learning thermostat on the market developed by former iPhone engineers.  That's right I said 'learning'.  The Nest features a number of technologies that let it not only learn your schedule and temperature preferences but also adjust on the fly to changes you make.  Nest works with both iOS and Android devices, as well as via their website, for remote access to you thermostat and all of its features (meaning you can adjust your theromstat from anywhere, even your couch, not that anyone would be that lazy…).
Nest also employs a number of energy saving features including 'Auto Away' and 'Airwave'.  Auto Away uses motion sensors built into the thermostat control unit to monitor when then house is vacant and adjust the temperature accordingly (up on hot days, down on cool ones).  The Airwave feature use knowledge of the latent cooling properties of your A/C coil.  It shuts of your A/C before reaching the target temperature only to uses the fan blowing across already cooled coil to reach its target.  All together the Nest claims a 30% savings in energy every year!
This savings doesn't come cheap however, at about $250 per unit.  I would expect this price to begin coming down soon as the Nest becomes available through Lowes stores as well as through Nest.com.  As for the claims of a 30% savings on energy, I'll have to get back to you once I have sufficient data.  In the mean time, the Nest is a sleek looking new gadget for my home that has been a topic of conversation with guests for the past few weeks.  Check it out for yourself.
Learn more about this great piece of tech at www.nest.com