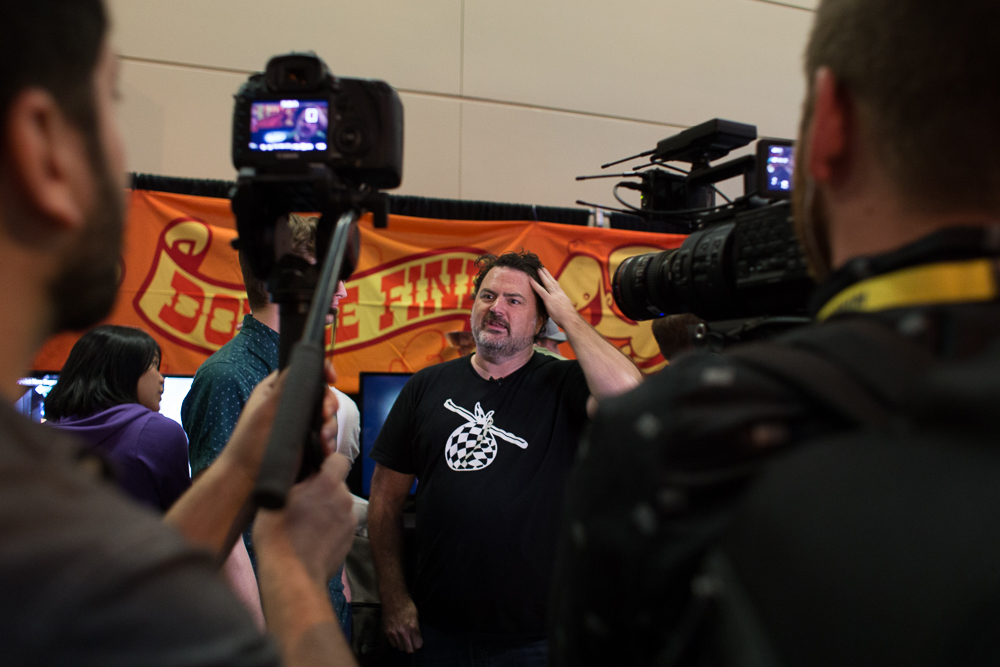 PAX Prime 2014: Welcome to PAX (Part Two)
The morning before the official start of PAX, I flew out the hostel door with camera gear and Tomodachi Life in tow. My first stop was Volunteer Park, a small park set back behind the carefully manicured homes of Capitol Hill. I wandered the brief paths for a couple hours, occasionally passed by runners (none of them Chris Evans, unfortunately) and cheerful pit bulls. Down a long road lined by horse-chestnut trees I found my destination: the Volunteer Park Conservatory, a small greenhouse complex I remember visiting with my father. Inside were displays of orchids much healthier than my own Trader Joe rescues, some ancient palms, and varieties of flowering bromeliads I had never seen before. Most of what I know about plants I learned from my dad, and it felt wrong to visit without him. I resolved to email him some pictures but I haven't gotten around to it yet.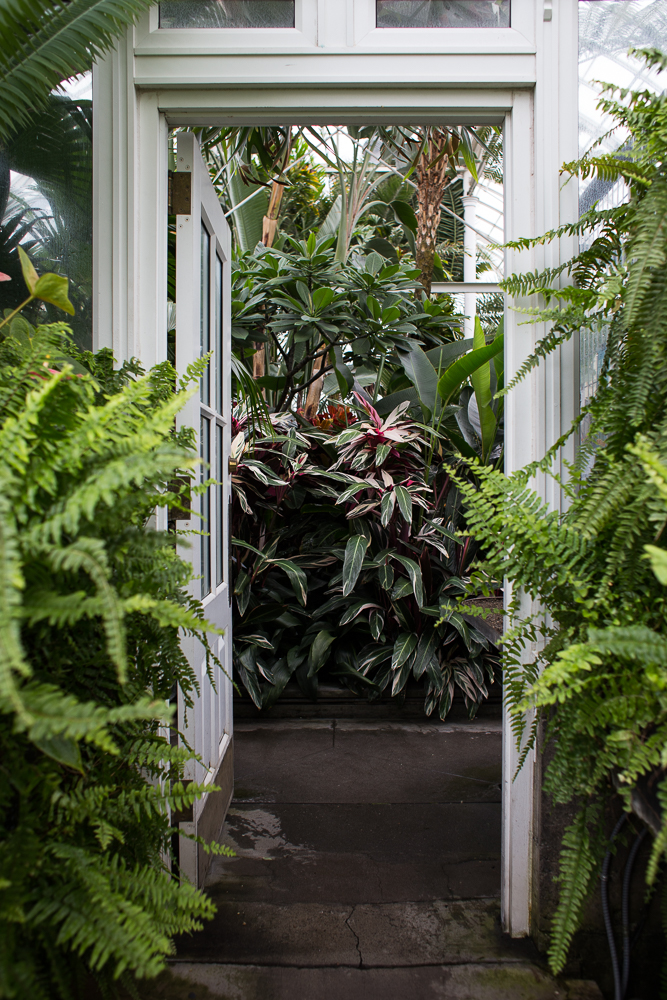 I popped into the gift store wanting to see if I could weasel my way into the closed cactus house. The shopkeeper put the kibosh on that desire but kept me around to chat about the climatological differences between California and Washington. "Does it rain much?" Not where I live, never where I live. Rain is such a novelty in the Bay Area that I have known some children born during a drought to reach toddlerhood before experiencing their first big rainstorm. In Seattle, though, it rains frequently, some might say interminably. It rains in great sheets, in a fine mist, at night and in the middle of the day, in the summer and in the winter. It rains just enough, I think.
I stopped for coffee and a second-hand newspaper at a cafe down the street. The front page story of that day's Seattle Times was about the joys of walking and profiled a man who regularly walks 30 to 40 miles in a single day. Now there's a cool guy, I thought. You can tell by his sandals, probably the ugliest sandals in the whole world. A guy who wears sandals like that has got to be cool because he care care what other people think of him. I surveyed my hip, uncomfortable sneakers and their secret insoles. Someday I'll be cool like that guy. I walked 9.5 miles that afternoon.
That evening, I gathered up my things for one final hike and made me way downtown to attend the Nerd Appropriate Pre-PAX Party. More of a get-together or quasi-organized hangout session, the NAPPP was my first opportunity to shake the hands of people I've been sharing tweets with for the past year and a half. In addition to the hosts—the very cool Ash and Scott of Nerd Appropriate—I also met the fine folks of Press2Reset and the hilarious Bell of Can't Talk podcast.
Accompanied by a round of drinks and a mountain of snacks, I chatted with new friends and familiar faces. In the dim bar light, everyone looked warm and happy. It was an incomparable feeling to be surrounded by people who shared my passions and a fair amount of my attitudes, and I can't wait to do it again next year.
*****
I woke up the next morning before the sun to find a new dorm-mate had arrived in the night: an elderly Buddhist monk. Her snores drove me out of bed in search of coffee—it was Friday, the first day of PAX, and I would not be caught sleepy on the show floor.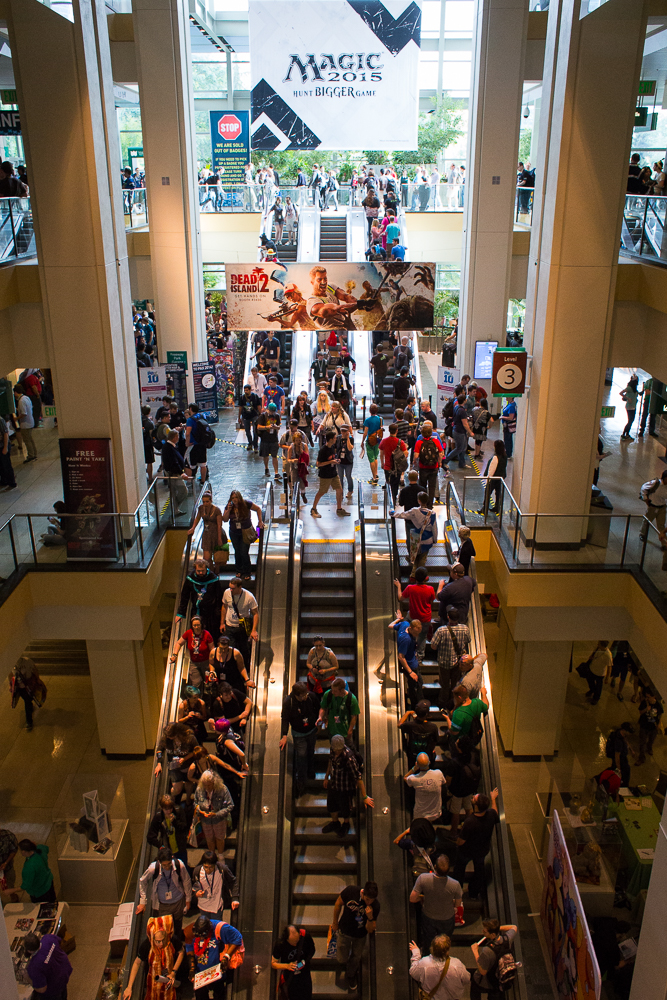 I've been to a number of conventions and conferences in the past—alternative press expos, zine fests, professional conferences, Coachella, even Wondercon during its time in San Francisco—but I have never quite experienced the spectacle that is PAX. If you haven't visited PAX Prime in Seattle, imagine this: the largest contiguous building you've ever seen spread out over three and a half city blocks and flanked by a public garden monstrous in its own right, all straddling a major metropolitan freeway. And it's absolutely full to the brim with excitable nerds.
Walking onto the main floor at PAX is like strolling into Knowhere—it's a hyperactive Wild West town where this year's upstart MOBAs duke it out with flashing lights and blaring speakers for the honor of sporting a sheriff's badge engraved with BEST IN SHOW. Its teeming aisles are a literal international crossroad, featuring apartment-sized booths run by Belarus-based tank fighting MMOs situated beside Japanese mobile heavyweights. In my limited time spent in the main expo hall, I StreetPass-ed attendees from Korea, Germany, Brazil, and Newfoundland, Canada, not to mention every corner of the United States. For better or worse, PAX Prime is one of the few places where nerds, geeks, and sundry other charming weirdos coalesce into a quivering amoeba of excitement for one soul purpose: games.
I spent my Friday in a daze wandering aimlessly from booth to booth and peering past the queues two hours-deep with people. Some studios constructed entire makeshift buildings complete with entrances, exits, and roofs. The notion of being trapped in a small room with several other sweaty people for longer than ten minutes gave me hives, so I stalked the edge of the expo hall, hunting for the little games—the charming games—where there would be no line at all.
Which is how I came to find Below, the new title from Capybara Games, the studio known for producing one of the best (if not the best) mobile games to date, Superbrothers: Sword & Sworcery EP. Below is a ruthless, rogue-like exploration game rendered in a timeless yet on-trend art style that invites the player to venture below a mountain to explore. Soundtracked by Jim Guthrie, Below was an eerie, challenging experience (I died 7 times in the span of 15 minutes,) and I can't wait to get me hands on it again.
My time up at the Capy Games booth, I wandered further into the expo hall and found the modest booth for Supergiant Games, the folks behind the Xbox Live Arcade smash hit Bastion and the recently released (and utterly heart-breaking) Transistor. To my surprise, the team had set up a small station where attendees could play an early concept build of Bastion. I had never had the opportunity to play an actual prototype, so I jumped at the chance to check it out.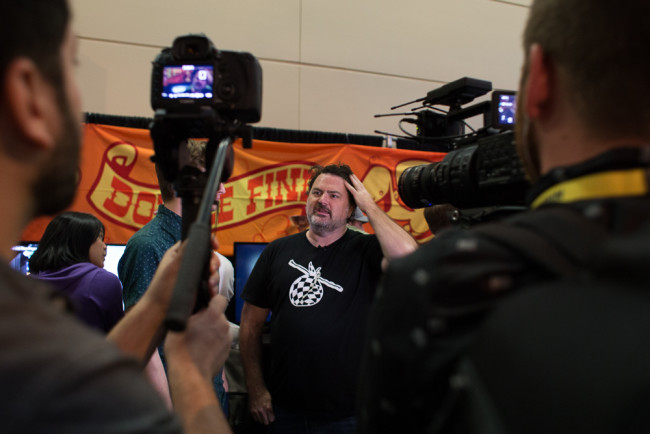 What I found surprised and delighted me: all of the elements that made Bastion a blast to play were present, albeit in rough-hewn form. The avatar—who would later become The Kid—had only two rudimentary animations, both of which were associated with his attacks, and to move he simply glided across the battlefield as if on ice. But the enemies spawned and divided as they did in the finished game and The Kid was still able to change weapons and attacks during battle. The surprise, then, was how fun the game remained even when stripped of all its prodigious bells and whistles. Even with the most rudimentary mechanics, I had a great time. The proof-of-concept even contained glimmers of environment layout that would appear in Transistor. Experiencing the strength and delight of Supergiant's vision in person as members of the dev team cheered me on was a truly unique experience, and to me an object lesson in the powerful joy inherent in games.
I concluded my evening with a lovely meal of mall Mexican food with Scott and Ash of Nerd Appropriate, and walked on clouds all the way back to my hostel. I was starting to see why so many people I knew loved conventions. I was hooked.
Keep your eyes on NerdAppropriate.com for Day 3 of Kate's PAX adventure tomorrow!
Kate Dollarhyde is a writer, editor, and ruthless Mario Kart opponent in Oakland, California.